A surging stock price, followed by a vehicle recall, took the automaker's Buzz score on a wild ride last month
Tesla has had quite the month. On April 3, news broke that the Silicon Valley startup's market cap had surpassed Ford's for the first time. A week later, Tesla overtook General Motors, making it America's most valuable car company. Never before has a US automaker outside of Detroit claimed the industry's top spot, according to Reuters.
About 10 days later, however, the celebration soured. Headlines declared that Tesla was voluntarily recalling 53,000 Model S and Model X vehicles over a potential issue with the parking brake.
A look at YouGov's Buzz score, which tracks consumer perception, illustrates Tesla's rise and fall throughout the past month. While relatively stable since the beginning of the year, news of Tesla's growing market cap near the beginning of April likely sent its score soaring from around 5 to 14. After Tesla announced the recalls, however, consumer perception began its descent from 14 to 7.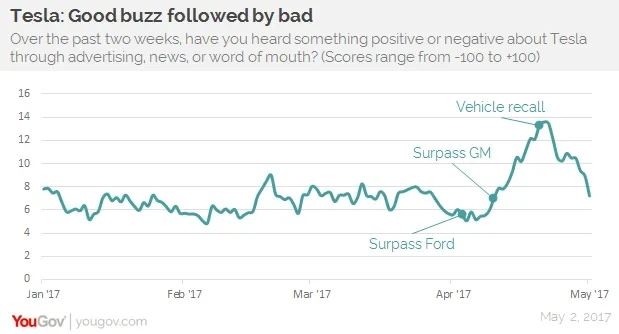 Despite this fall back to Earth, at $53.8 billion, Tesla's market cap remains larger than both Ford ($43.3B) and GM ($49.5B).
YouGov measures consumer perception of Tesla and over 1,300 other brands across several sectors with its Buzz score, which asks respondents if they've heard anything positive or negative about a brand in the last two weeks.