23% of LGBTQ Americans are willing to recommend ride-sharing services over the general public (16%)
As travelers set out on their next big adventure this summer, one group in particular uses sharing services to get around more than others. LGBTQ travelers are now some of the most visible, in part because they tend to be more adventurous, consumer groups in the travel industry.
The United Nations World Travel Organization (UNWTO) recently released its second global report outlining how "[LGBT tourism has been] a powerful vehicle for economic development, social inclusion and the competitiveness of tourism destinations" since as consumers, "they tend to travel more frequently and exhibit higher levels of spending."
YouGov polled LGBTQ Americans and found that in the next year, they are more likely to travel than the average American (47% to 41%). This particular consumer segment also has a better impression of sharing platforms than other Americans, and they are more willing to consider and recommend these services.
Uber, Lyft, and Airbnb lead the US sharing economy when it comes to travel. 25% of LGBTQ riders have a good impression of the two ride-sharing platforms, while the general public is a less enthusiastic (18%). Lyft owns a smaller percentage market share than Uber but is valued just as highly among the LGBTQ community. Its partnership with SAVE, an LGBTQ organization against discrimination, is seen as a testament to Lyft's advocacy for equal rights and ride inclusion.
When traveling by car, LGBTQ travelers are more likely to consider using ride-sharing services than go through a car rental service like Enterprise, Hertz, or Budget. Conversely, 19% of the general public would rather use Enterprise (out of all the car rental services) to rent a car than call an Uber or Lyft.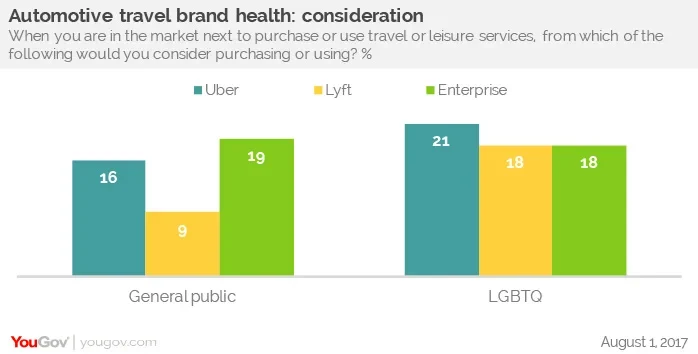 The LGBTQ community is also an ideal segment for these services because of their traveling preferences. It's well known that Uber and Lyft thrive in busy cities like New York, Chicago, and San Francisco. Those hubs are also where 43% of LGBTQ travelers are likely to travel, compared to just 35% of the general public.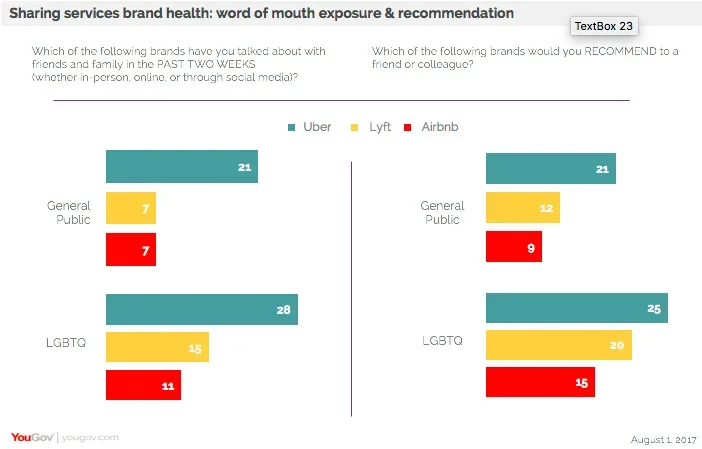 The LGBTQ community is also likely to participate in conversations about the brands and recommend them to others. In every case, they're talking about Uber, Lyft, and Airbnb more than the general public. The US has become increasingly supportive of the LGBTQ community and what's emerged as a result is a better understanding of the LGBTQ experience and their consumer habits.