Consumer perception of the company as a quality automaker is higher now than prior to the ignition switch scandal
After a long road to recovery following its crisis over a faulty ignition switch, which led to several deaths, numerous recalls, and a drop in consumer perception, not to mention profits, General Motors appears to be doing better now than at any point following its IPO in late 2010.
Indeed, in the days leading up to GM's latest earnings report, scheduled for release later this October, consumers currently hold a higher view of the company, in terms of how they perceive the quality of its vehicles, than they did prior to the scandal, according to new numbers from YouGov BrandIndex.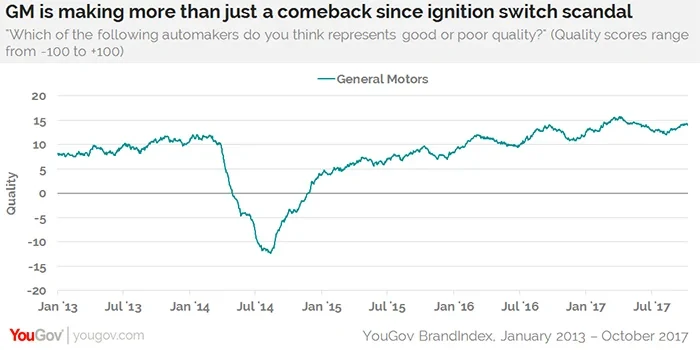 In 2014, General Motors saw its Quality score drop from a high of 12 in early March to a low of -12 later that August, meaning that more US adults viewed GM as representing poor quality than good quality.
Today, however, GM's Quality metric sits at 14 – two points higher than what it achieved prior to the ignition switch scandal. This suggests that not only has the public's trust returned to GM, but it's grown, too.
Coincidentally or not, the company's record-high Quality scores are currently accompanied by record-high share prices, allowing GM to reclaim its position over Tesla as the most valuable US automaker by market cap.
Photo: Getty