Nearly a third of auto repair pros will consider buying from Autozone next time they're in market (31%)
As fall starts to wind down, car owners across the US are beginning to prepare their cars for winter. Whether it's checking tire tread, switching into snow tires, or inspecting anti-freeze levels, many Americans rely on automotive professionals to keep their vehicles in good working order during colder months. Data from YouGov Profiles shows that nearly three quarters of Americans say they need a mechanic to fix their cars (73%) and YouGov BrandIndex data reveals the top auto part retailers that those industry pros trust most.

One in five Americans who work in the automotive repair and transportation industry are current customers of Autozone, the auto part retailer (21%). By the same metric, Autozone leads its competitors leads its competitors like O'Reilly Auto Parts (14%) and doubles the amount of current customers of Advance Auto Parts (10%).

That's not the only metric that Autozone sees success in. As Americans start to weatherproof their cars, they may want to look to where their mechanics buy inventory from. Most mechanics say that they'll likely consider Autozone over all of its competitors the next time they're in market to purchase inventory.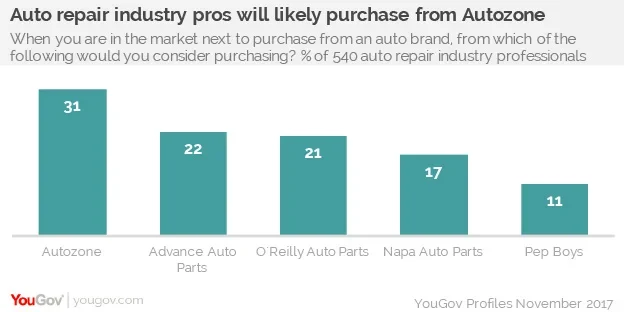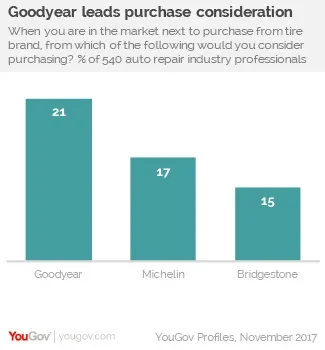 As for the top tires this season, one in five automotive industry pros say they'll likely buy tires from Goodyear (21%) over tire makers like Michelin (17%) and Bridgestone (15%).
Other figures from YouGov BrandIndex reveals that since the beginning of fall, Autozone experienced a bump in its Word of Mouth score while its competitors remained flat.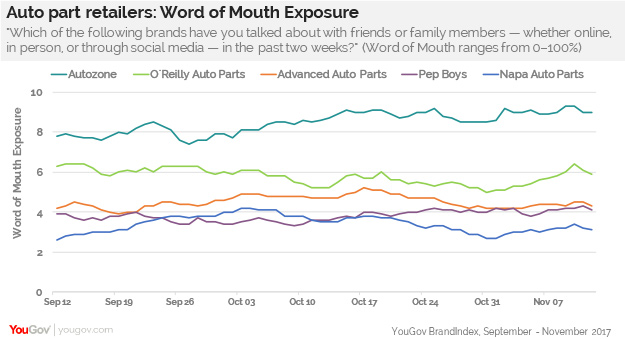 Read more results from this poll here
Find out more about
and
Image: Getty