16% of prospective car buyers say they're aware of Lexus, Mercedes, and BMW ads
Luxury car makers have rolled out their Christmas commercials for 2017 and with less than three weeks to go until the holiday, YouGov BrandIndex reports that Lexus leads luxury car ad awareness with its December to Remember holiday campaign.

This year, Lexus launched the campaign's first commercial on Black Friday and since, the campaign has propelled Lexus' Ad Awareness score well above the rest of the luxury car sector's Ad Awareness.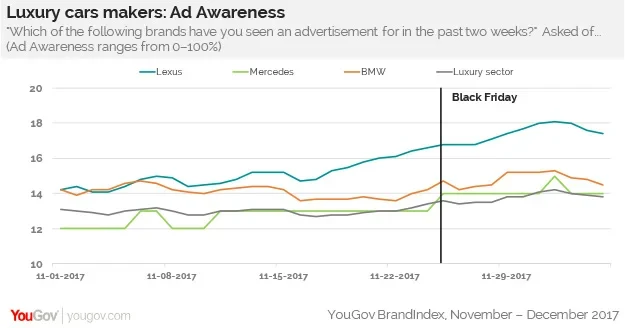 Most luxury car ads feature a sleek vehicle hugging the curves along the side of a mountain, but Lexus breaks the mold and doesn't even place anyone behind the wheel. Instead,
Lexus's message to all this year is to "let your inner child out"
and the three commercials feature montages of excited children dancing and gushing over a new Christmas gift. The twist is that while the audience sees a child running around a car, the rest of the family in the commercial interrupts the child's play and reveals that he or she is actually a grown adult who's flaunting his or her inner kid over a new, shiny gift – a Lexus.
Data from
indicates that prospective car buyers tend to be more aware of car commercials than the general public – and for those who say they'll be in market for a new car in the next year, Lexus, BMW, and Mercedes are the luxury brands that they tend to notice most. The three brands lead Ad Awareness with 16% of prospective car buyers saying they notice the three equally. The only other brand to distinguish itself from the pack is Audi (13%).