Southwest Airlines' recent series of mishaps – an engine exploding in April that resulted in a passenger death, a cracked window on a flight to New Jersey, and an emergency landing over the weekend from "pressurization issues" – has driven them to their lowest consumer perception levels in at least 11 years, according to YouGov BrandIndex.
The crisis dropped Southwest's consumer perception levels below beleaguered United Airlines around May 1st, which has been on a slow bumpy recovery since its "passenger dragged off the plane" incident in April 2017. This even comes after United's recent setback involving a flight attendant putting a passenger's small dog in an overhead compartment, resulting in its death.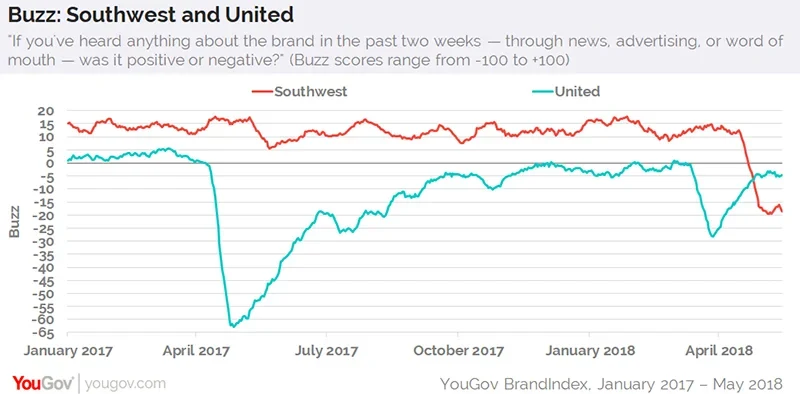 For Southwest, this is a striking blow for the domestic airline that topped YouGov BrandIndex's holiday travel satisfaction report card this past winter.
By comparison, United's consumer perception fell much further than Southwest's has thus far. It took United more than seven months for its perception to return to the same level as it was the day of the removed passenger incident on April 9, 2017.
Even more concerning from a business viewpoint is Southwest's steep drop in Purchase Consideration, YouGov BrandIndex's metric of potential sales revenue.
On April 15th, just before the engine explosion, 43% of consumers would consider booking their next flight with Southwest. This past weekend, that percentage had dropped to 31%.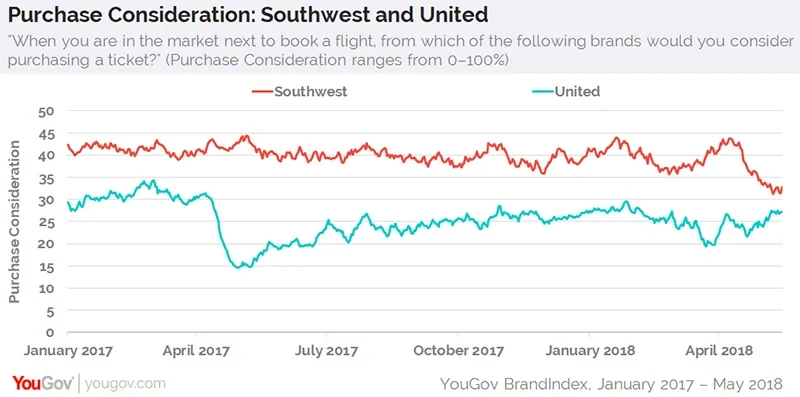 Despite Southwest's misfortunes, its Purchase Consideration levels still remains higher than United, which has still not recovered on this metric. On April 9th, 2017, 31% of consumers would consider buying their next plane ticket on United, eventually reaching a low of 15% four weeks later. Currently, United tracks at 27%, five percentage points below Southwest.
In addition to Purchase Consideration, Southwest and United's consumer perception were measured using YouGov BrandIndex's Buzz score, which asks respondents: "If you've heard anything about the brand in the past two weeks — through news, advertising, or word of mouth — was it positive or negative?"
Photo: Getty