Baby boomers are the generation least likely to consider using digital license plates
Several US states have announced plans to test digital license plates on vehicles. Similar to traditional plates, the digital plates are able to display large letters and numbers. They would also have the capability to display other messages, such as Amber alerts, emergency alerts, and advertisements. Additionally, they would enable electronic vehicle registration and have the ability to track a vehicle's location and distance driven.

New data from YouGov Plan & Track shows that many vehicle owners aren't quite ready to embrace digital license plates. About 4 in 10 (43%) Americans who own a car, truck, or van say that they would not consider replacing their traditional license plate with a digital one. Another 28% say that they would consider it, while a similar number (27%) say they aren't sure.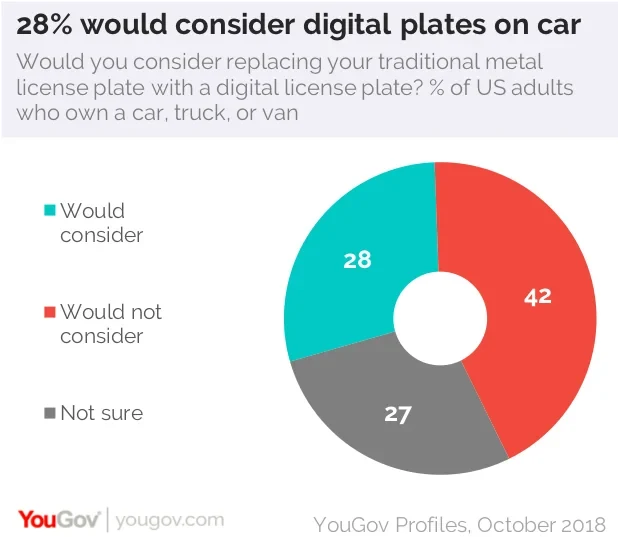 Baby boomers (42%) are more likely than Gen X (35%) and millennials (30%) to say that they would not consider replacing their license plates with a digital model. Only 23% of baby boomers say that they would consider replacing their plates, compared to 33% of Gen X and 32% of millennials. Roughly one-quarter of people in all three generations say that they are simply "not sure."