Buzz and Purchase Consideration make a full recovery
Last April, Southwest Airlines suffered a series of setbacks that sent its usually high consumer perception levels down to Earth.
The latest data from YouGov Plan & Track, however, shows that the brand has made a full recovery.
On April 1, 2018, just prior to a Southwest engine exploding mid-flight, the airline had a Buzz score of 13 — meaning more US consumers aged 18+ reported hearing something positive about the brand than negative in the past two weeks. About a month later, Southwest's Buzz score dropped to -20, suggesting that news about the airline had soured.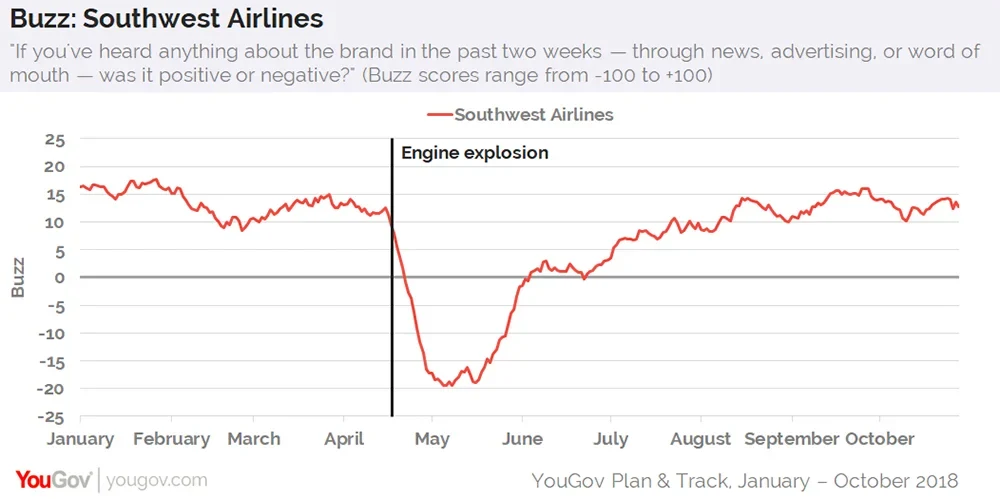 After issuing an apology and financial compensation to passengers aboard the flight, Southwest's Buzz score eventually began to rebound. At present, the brand's Buzz score sits at 13.
Southwest's Purchase Consideration score followed a similar path. On April 1, when asked if they'd consider buying a ticket from Southwest when next in the market to book a flight, 41% of American adults said they would. By early May, that number decreased to 31%. It currently sits at 44%, implying a full recovery in terms of potential revenue.