The hotel brand's first celebrity ad campaign appears to be working
In late September, Hilton launched a new ad campaign featuring actor and singer Anna Kendrick.
If designed to reach younger consumers, the choice of celebrity spokesperson appears to be fitting for two reasons. First, 59% of US adults aged 18-34 have a positive opinion of Kendrick, according to new data from YouGov Plan & Track. Only 5% have an unfavorable view of her. Second, 75% of Anna Kendrick fans aged 18-34 have a positive view of the Hilton brand, compared to 54% of all American millennials.
The solid match seems to be working for Hilton. Since the Kendrick campaign, which features TV ads, radio spots, and other digital content, debuted on September 28, the number of US consumers aged 18-34 recalling seeing a Hilton ad in the past two weeks has risen from 10% to 14%. The number of millennials talking about the hotel brand with friends or family members has also increased, climbing from 8% to a high of 14%.
The campaign coincides with a jump in Impression score, which asks consumers if they have an overall positive or negative impression of a particular brand. On September 28, Hilton had an Impression score of 35 among US consumers aged 18-34. At present, that number sits at 38 after reaching a high of 42.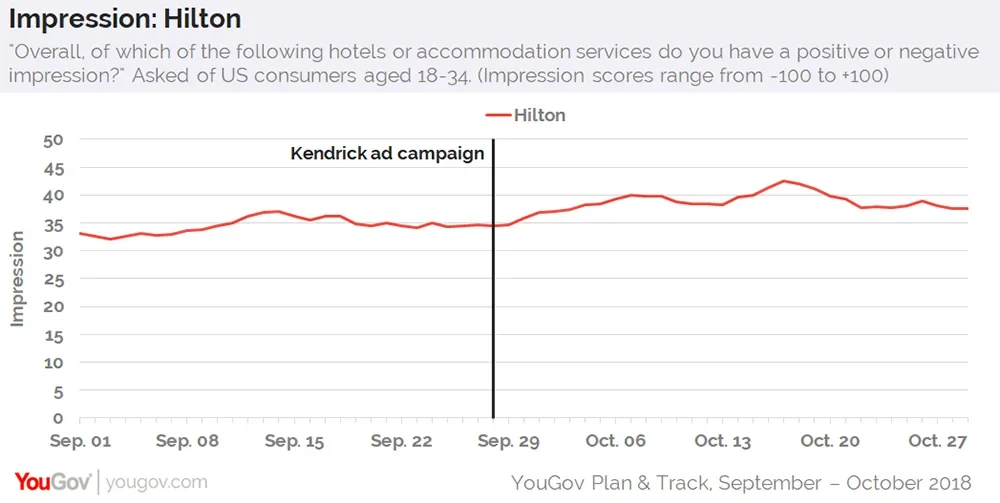 Likewise, the number of millennials open to staying at a Hilton the next time they're in need of a hotel or accommodation has also increased. When the Kendrick campaign launched, 27% of younger US adults indicated that they'd consider staying at a Hilton. Today, that number sits at 33% after peaking at 36%.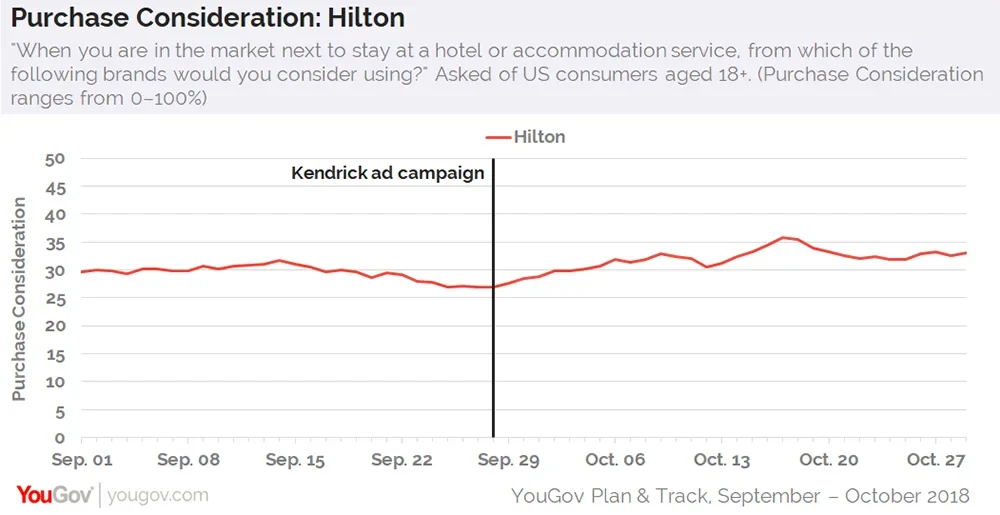 Additional figures from YouGov Plan & Track reveal that nearly a quarter (24%) of millennials say celebrity endorsements have an effect on their purchase decisions, compared to just 10% of consumers aged 35 or over.
Furthermore, 28% of US consumers aged 18-34 report typically using an online accommodation website when booking a place to stay during a leisure trip, while 22% say they tend to book directly on the official hotel website.
Photo: Getty