Hummer, the love-it-or-hate-it brawny brand synonymous with high gas consumption, will return to the marketplace in 2022 as an all-electric vehicle.
On the surface, an all-electric Hummer may seem oxymoronic.
But the idea addresses some truths about American car buyers: In general, they want big vehicles, they are conscious about fuel consumption and they believe electric vehicles are the future.
And, according to new YouGov data, younger Americans are more likely to be interested in driving an all-electric Hummer.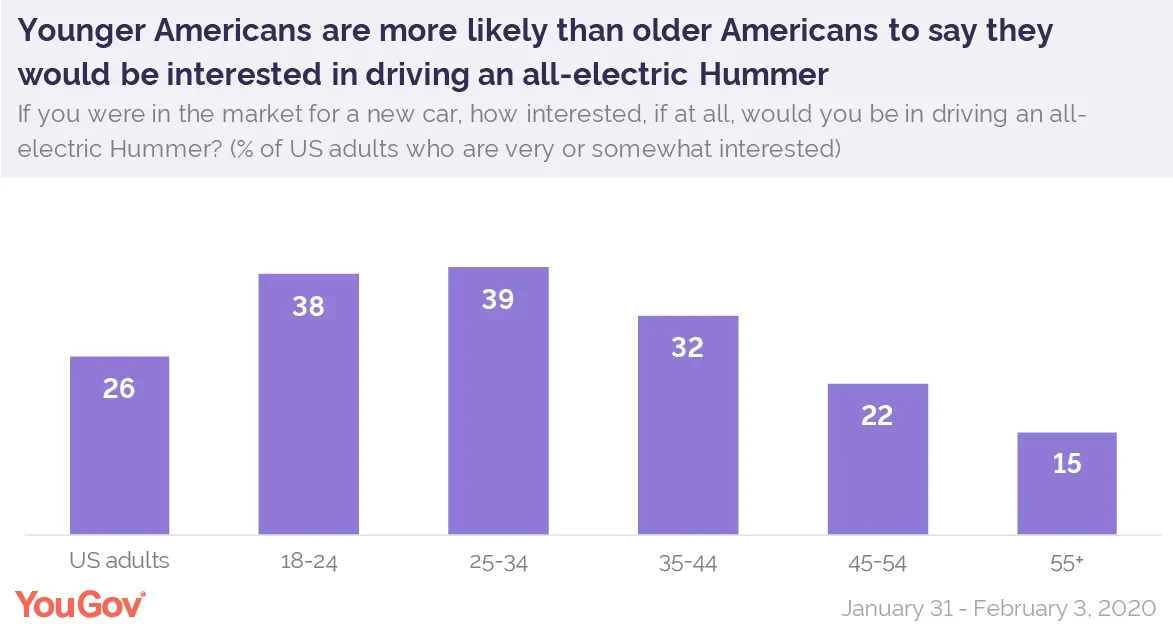 Here are some other things we know about Americans age 18-34 who want to buy a pickup truck when they next find themselves at a dealership:
They like a vehicle with a powerful engine, so GMC has decided to make the vehicle's 1,000-horsepower engine one of its main selling features;
They are more likely than the general public to say fuel consumption is the most important feature when buying a new car;
They are nearly just as likely as the general public to believe electric cars are the future of the motor industry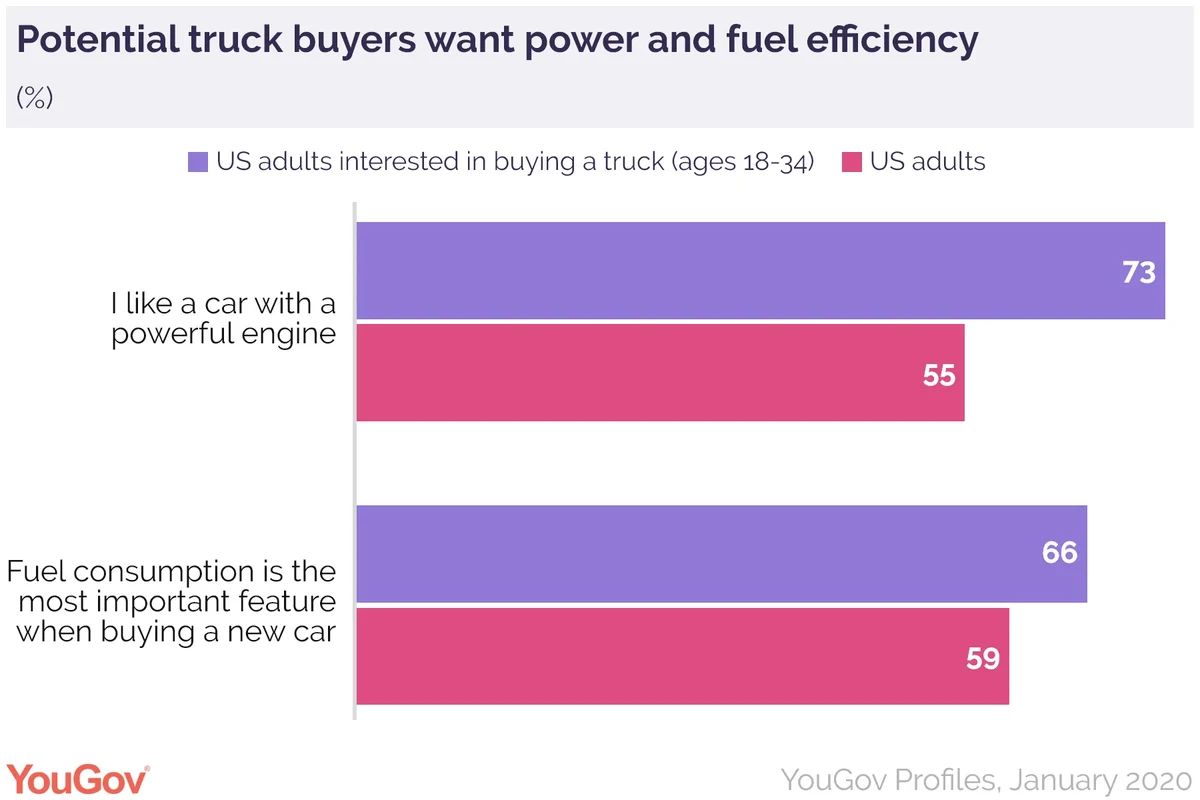 Further, According to YouGov sustainability segmentation, they're more likely than the general population to recognize climate change is a problem but sustainability is not entrenched in their lifestyle, so the electric engine ought to entice the segment.
Rather than returning as a stand-alone General Motors brand as it once was, the descendant of the M998 Humvee military vehicle will live in the GMC family, which has proved an important asset in GM's stable of brands in the era of the SUV. According to YouGov BrandIndex, it has consistently scored well when it comes to purchase consideration, coming second only to Chevrolet.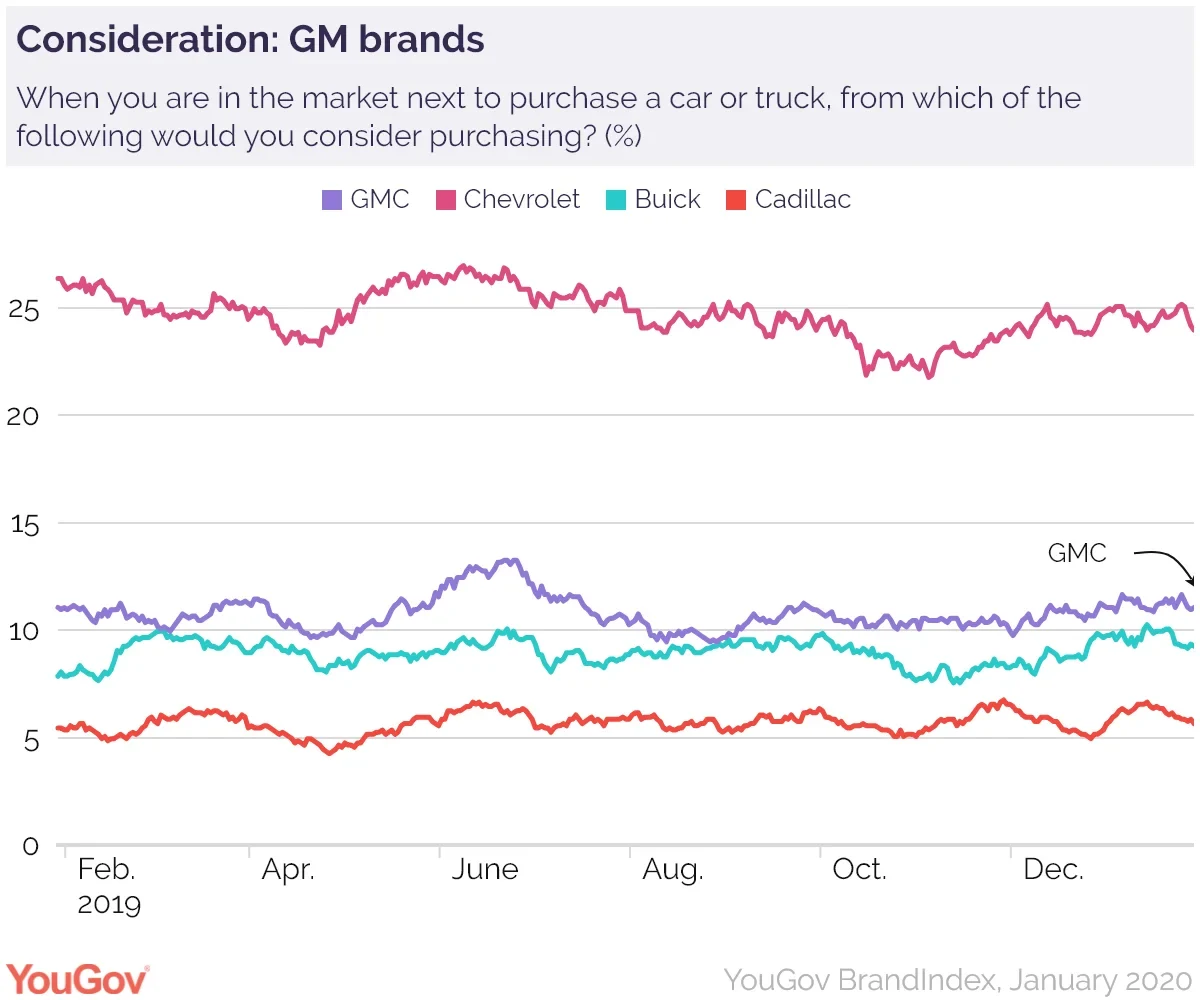 The forthcoming Hummer is coming into a competitive market. Ford is working on an electric F-150 full-size pickup, Rivian's pickup will hit the market this year and production of Tesla's polarizing Bladerunner-inspired Cybertruck is scheduled to begin in 2021.
By reviving the controversial Hummer name, GM is following a trend among vehicle manufacturers to harness well-known nameplates to lure consumers to an alternative drivetrain, including most recently Ford's Mustang Mach-E Electric SUV.
To help make the biggest splash possible, GM aired an ad for the vehicle during the Super Bowl starring NBA superstar LeBron James.
"GMC builds premium and capable trucks and SUVs and the GMC HUMMER EV takes this to new heights," said Duncan Aldred, vice president of Global Buick and GMC. "We are excited to debut our revolutionary zero-emissions truck during the biggest night in TV advertising."
James fans are more likely to believe fuel consumption is the most important feature when buying a new car and believe electric cars are the future of the motor industry, YouGov Profiles shows.
Methodology: We determine those who want to buy a pickup truck based on the question "Which, if any, of the following types of car would you be most interested in purchasing next?" The weighted sample size is 338 US adults. The data was retrieved on Jan. 30, 2020. YouGov BrandIndex asks panelists about thousands of brands every day. The consideration metric is based on the quetsion: "When you are in the market next to purchase a car or truck, from which of the following would you consider purchasing?" The metric is based on an average weighted sample size of 2,415 US adults. Data retrieved on Jan. 30, 2020