Since the NFL began airing a new anti-domestic violence PSA TV spot on Thursday Night Football on October 23rd, perception has improved with its own football fans as opposed to a much broader audience which has been generally critical of the league in its handling of the Ray Rice crisis in September.
These results are of particular significance, as this is the NFL's first PSA effort to help repair its image since September's backlash and mounting pressure grew for Commissioner Roger Goodell.
Three of YouGov BrandIndex's key perception metrics for the NFL went up far more for the core football fan audience than non-fans since the TV spot began airing on Thursday Night Football on October 23rd:
A full 69% of football fans are aware of the NFL's ads compared to 28% who are not fans.
Word of mouth metrics show a similar gap, with 51% of football fans talking about the NFL with family and friends in the past two weeks – the same percentage as last year at this time -- compared to 21% with non-fans, which is double the same amount from the same period one year ago.
Buzz score, which measures positive or negative feedback drawn from hearing anything through advertising, news or word of mouth, showed a similar pattern: using its scale of -100 to +100, the NFL Buzz score with fans went from -16 to 9 since the ads began airing versus non-fans moving up from -29 to -15.
None of these metrics, however, has brought the NFL back to pre-crisis levels yet.
Continuing a striking trend that YouGov BrandIndex noted in earlier analyses, while both genders began their perception rebounds about October 1st, it has been women who have recovered faster than men. Both genders are presently at neutral Buzz score levels for the NFL, yet women got there a week earlier than men. Neither gender, however, has moved into positive perception territory yet or come close to pre-crisis levels.
All measurements are for adults 18 and over.
Football fans: NFL Ad Awareness, Buzz, WOM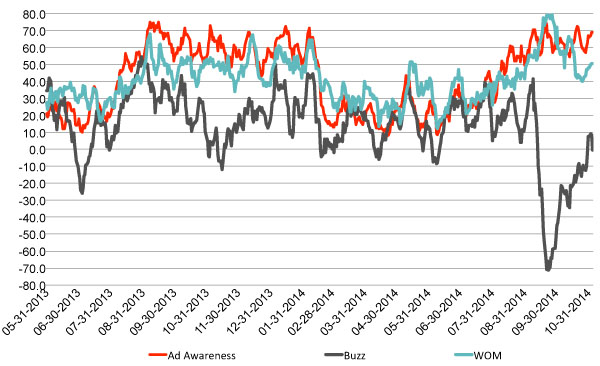 Non-football fans: NFL Ad Awareness, Buzz, WOM