Nearly one in five American workers (19%) are late for work at least once a week, however nearly half (48%) are never late.
Many American workers hold themselves to stringent standards when they consider what constitutes lateness. A quarter of employees (25%) think they are late if they are only one minute past their start time. Only 15% feel they should have a free pass more than 15 minutes after their start time.
Millennials tend to be less punctual than their older colleagues with 22% admitting to showing up late at least once a week compared to 15% of those aged 55 plus. Only 38% of millennials claimed they were never late compared to 55% of older (55+) Americans.
On average, how often, if at all, are you late to work?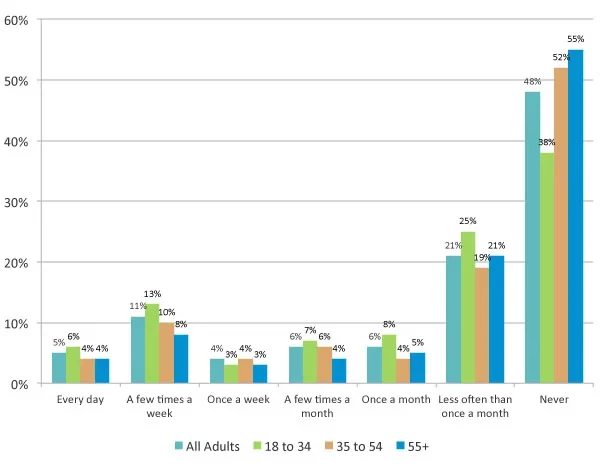 Employees are generally more cautious about tardiness than key decision makers at small and medium enterprises (SMEs). From an SME manager's point of view only 21% consider that an employee is late if they are up to 5 minutes beyond their start time compared to the 47% of employees. Many more SME managers (29%) than employees (15%) only consider employees late when they arrive 15 minutes late or more.
The biggest threat to punctuality is traffic (41%) and the fact that workers simply are not penalized for checking in after a certain time (32%). Oversleeping and bad weather are also key causes (28%). Parents of children are much less likely to oversleep (18%) but 43% are late getting their family ready for the day.
Favorite excuses from delayed workers:
• Mother locked in refrigerator
• Had to sober up first
• The first store ran out of donuts
• Had to stay up all night to watch the entire season of Law and Order
• Team lost at football
For further information about Omnibus results, and for details about methodology and Omnibus services, please email omnibus.us@yougov.com.

Find the full results here for employees and here for SME decision makers

Image courtesy of Press Association