Most Americans think that herbal supplements can improve health.
68% believe that they can be effective health supplements compared to 44% who believe that they can cause harm. 58% of Americans, however, believe that herbal remedies should only be taken after seeking medical advice.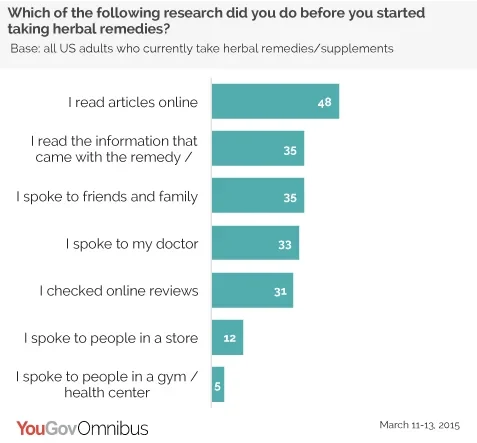 Although a third (33%) of adults taking herbal remedies spoke to their doctors before taking the remedies, a slightly higher number (35%) chose to check in with their friends or family. Nearly half of people who take herbal supplements (48%) researched online articles before taking them and 31% checked online reviews.
19% of people taking herbal remedies, take them because they were recommended by their doctor, a similar number as those who take them because they were recommended by friends and family (22%).
Just under a quarter (24%) of Americans had heard about a recent ruling that required major retailers to remove health supplements from their shelves.
The New York Attorney General ordered several major retailers to remove supplements after finding that only a fifth of the products tested contained the plants listed on the labels. 32% of supplement users said that the Attorney General's concerns makes them want to reduce the number of supplements that they are taking.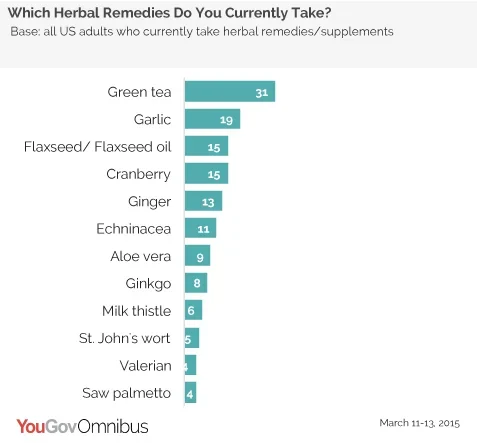 Herbal supplements are still a relatively small element of the healthcare market; although 17% of Americans take herbal supplements daily, and 30% take them a few times a month and more, this compares to 46% of adult Americans who are taking vitamins daily. Just over half (52%) of Americans take some form of prescription medication on a daily basis.
The most frequently used herbal remedies are green tea, garlic, Flaxseed and Cranberry.
For further information about Omnibus results, and for details about methodology and Omnibus services, please email omnibus.us@yougov.com.
Find the full results here.

Image courtesy of Press Association