Three weeks into its "Love Fest" campaign to help shed its "whole paycheck" image and perhaps repair damage done after June's price mislabeling crisis, Whole Foods' key consumer perception metrics have made modest headway but are still well below pre-crisis levels.
Starting September 9th, Whole Foods has been giving away $500 weekly giveaways in each store, charging 25 cents for 12-ounce cups of coffee, offering special product discount offers, and holding special customer events.
Since that promotion launch, value perception moved minutely higher but those increases have not been sustained. Overall brand perception has inched up slightly. However, going back to early summer, the news is better:
From mid-August through now, the percentage of consumers who would consider buying at Whole Foods the next time they have to go supermarket shopping increased from 10% to 14%, just a couple of points shy of where they've been most of the year. That's still about five percentage points below rival Trader Joe's.
Since June, when its perception dropped to its lowest point since November 2012, Whole Foods has partially rebounded, but is still well short of both pre-crisis and Trader Joe levels. Perception was measured with YouGov BrandIndex's Buzz score, which asks respondents: "If you've heard anything about the brand in the last two weeks, through advertising, news or word of mouth, was it positive or negative?"
Buzz: Whole Foods, Trader Joe's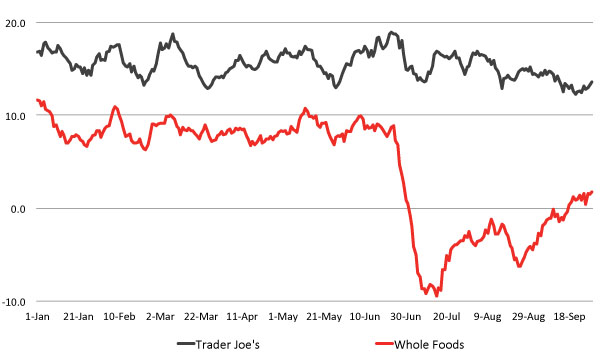 Value: Whole Foods, Trader Joe's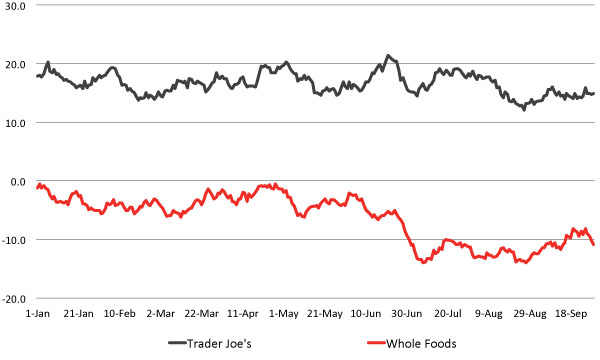 Purchase Consideration: Whole Foods, Trader Joe's