New laws are cracking down on soda drinking in San Francisco, where people already consume less soda per person than other major cities across America
In addition to a steady decline in sales over the past decade, the soft drink industry now faces a new hurdle: increased government regulation. As reported in the Wall Street Journal, Philadelphia officials are pushing for a tax on sugar-heavy carbonated drinks that could increase the price of a can by more than 50%. Other cities are also looking into a soda tax. Meanwhile, in San Francisco, a new law will require billboards and posters that contain advertising for soda brands, including the likes of Coca-Cola, Pepsi, and the Dr Pepper Snapple Group, to include a health warning noting that sugary beverages contribute to obesity, diabetes, and tooth decay.
New data from YouGov Profiles reveals that while plenty of Americans are concerned about monitoring their sugar intake, this level of concern varies from city to city: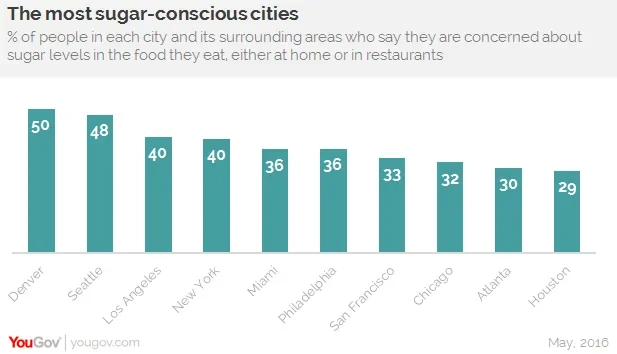 Using a list of 10 major cities scattered across the country in a manner meant to capture regional differences, data shows that about one in two people in Denver and Seattle pay particularly close attention to the amount of sugar they consume. In Philadelphia and San Francisco — two cities where local officials have taken measures to deter soft-drink consumption — the same is true for around one-third of their residents. Atlanta (the global headquarters of Coca-Cola) and Houston (the largest city in Texas, home state of the Dr Pepper Snapper Group) make up the bottom end of this list, with 30% and 29% respectively.
When it comes to rates of soda consumption, you see a nearly opposite pattern.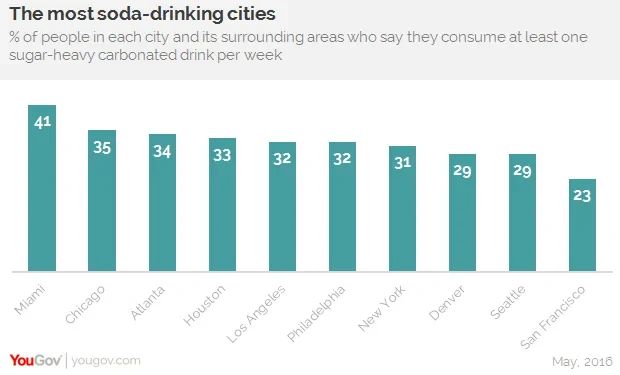 Miami tops this list, with 41% of its residents reporting that they consume at least one soft drink per week. Next comes Chicago, followed by Atlanta and Houston. Denver and Seattle once again assert themselves as health-conscious cities, both with a per-week drinking rate of only 29%. But they're still behind San Francisco, suggesting that the city's new law only reinforces what its residents already know and practice.