Chipotle's journey to consumer perception recovery appears to have stalled since early June, even with the introduction of a first-time loyalty program.
After a series of E.coli and novovirus outbreaks caused a deep two and half month perception slide, Chipotle had been slowly working its way back up through the first half of the year. However, three key metrics hit a wall – and even slid back a little – since around June 9th, when University of South Carolina researchers found that entree dishes from Chipotle and other "fast-casual" restaurants contain more calories than those from fast-food chains like McDonald's and Burger King. The early July cocaine ring indictment of Chipotle's chief creative and development officer could have stymied the rebound from that report as well.
So far, Chipotle's new Chiptopia loyalty program, launched on July 1st, and 4-minute animated ad running in movie theaters does not seem to have had much impact in improving these metrics.
Chipotle's biggest challenge seems to be quality perception, as that metric is recovering the slowest. The worst appears to be over in terms of purchase consideration, an indicator of potential future revenue, but those numbers have actually slid back in the past several weeks.

YouGov BrandIndex measured Chipotle with three different metrics:
QUALITY
"Is it high quality or low quality?" -- measured in a -100 to 100 score range, with zero equaling neutral
A key branding point throughout the chain's history, Chipotle consistently ran around 26 or 27 score until the crisis sent it down to -6, where it remained throughout January and mid-February. Chipotle made it as far back up as a 9 score on June 9th, and then retreated to its current 6 score.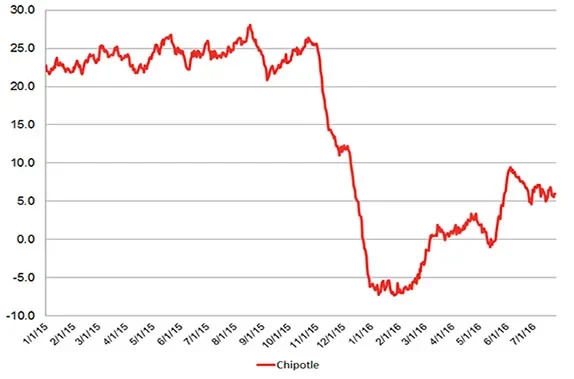 BUZZ
"If you've heard anything about the brand in the last two weeks, through advertising, news or word of mouth, was it positive or negative?" -- measured in a -100 to 100 score range, with zero equaling neutral
Buzz is the metric which has improved the most for Chipotle, yet it still has not broken past a zero (neutral) score since June 9th. The score bottomed out on December 31st at -33, and has been hovering around -2 for the last month.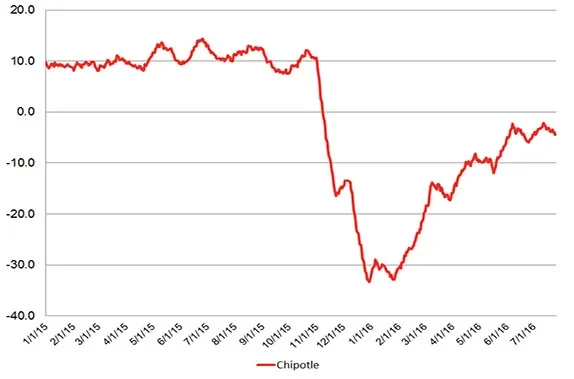 PURCHASE CONSIDERATION
Chipotle dodged real damage all fall long until October 20th, when 25% of consumers said they'd consider buying from Chipotle the next time they intended to purchase fast food. By February 9th, that percentage fell to 12%, then made it as far back as 19% in early June. Chipotle's current Consideration score is 18%.