Domino's has become the breakout dining brand of the past three months, with key data signs reflecting momentum that began last summer.
On numerous key metrics, Domino's surpassed not only the average scores of its main pizza sector rivals, but the top Quick Serve Restaurants (QSRs) as well. Domino's is the second-largest pizza chain in the world.
Possible reasons for Domino's breakout performance: its Piece Of The Pie loyalty program (launched at the end of 2015), the Pizza Tracker app which lets customers follow their orders from cooking to delivery, and the rollout of its new DXP delivery vehicle, a modified Chevy Spark with a warming oven and space for 80 pizzas, sides, and salads.
Domino's improved across three key metrics, but one in particular underscored the payoff of their efforts – Purchase Consideration, YouGov BrandIndex's measurement of potential sales revenue. In a hyper-competitive sector, where every one or two point increase is a big deal, Domino's gained substantial ground. Domino's was right in the thick of the QSR sector in this metric for more than two years, until December. That month, 20% of adults would consider Domino's the next time they buy fast food, but they began to move up. Currently, they are at 23%, a full three points ahead of where the QSR Sector average is now.
Last June appeared to be a turning point for Domino's in the other two metrics:
BUZZ ("If you've heard anything about the brand in the last two weeks, through advertising, news or word of mouth, was it positive or negative?"): Domino's has consistently been ahead of the Top QSR and Pizza QSR sectors. However, from June through now, Domino's Buzz score rose 50% while the QSR sector stayed even. Domino's hit its highest Buzz score since December 2012.
SATISFACTION ("Are you a satisfied customer?"): Like Purchase Consideration, Domino's tracked even with the rest of the QSR sector. Mimicking the Buzz score trend, Domino's Satisfaction score has been running up 27% since June 2016, well ahead of the Top National QSR sector.

The Buzz and Satisfaction scores can range from -100 to 100 with a zero score equaling a neutral position.
Buzz: Domino's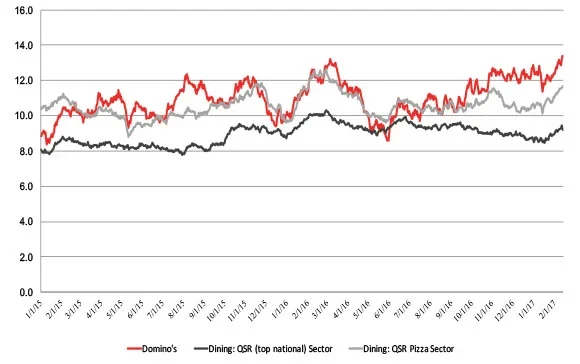 Satisfaction: Domino's