As Dave & Buster's prepares to release its Q2 results, YouGov data reveals that consumer perception of the restaurant chain has remained relatively stable
"When people think about fun, we want them to think about Dave & Buster's," explains a spokesperson during a Dave & Buster's promotional video aimed at investors. People might as well associate the restaurant and arcade chain with profits, too.
Since the company's IPO in October, 2014, its stock price has grown by over 250%, hitting an all-time high of $72.89 this past June. Dave & Buster's Entertainment, which is scheduled to report its financial results for Q2 2017 on Tuesday, September 5, also has an impressive winning streak when it comes to beating earnings estimates. During Q1 2017, for example, total revenues increased to $304.1 million from $262.0 million during the same time period last year.
According to recent YouGov data, Dave & Buster's purchase consideration score — a metric that gauges the percentage of all US adults who'd consider visiting the chain the next time they were in the market to buy food or drink — hit a high near the beginning of May (7.5%), followed by a low at the start of July (4.9%). At present, the company's purchase consideration score sits at 6.0%.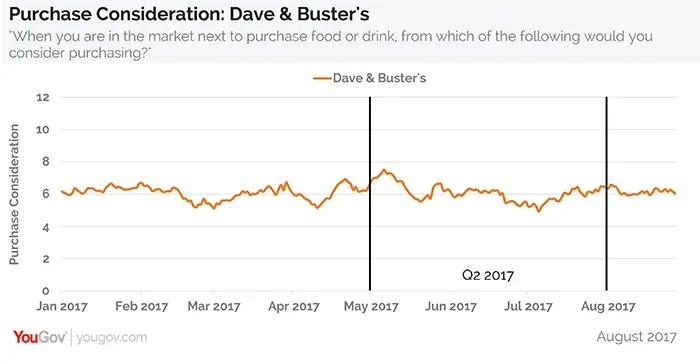 Similar to Dave & Buster's purchase consideration score, the number of consumers likely to recommend the restaurant also experienced a high and low within the quarter. As of now, however, more Americans report recommending Dave & Buster's to friends and colleagues than did at the beginning of the year.