In the month of August, IHOP was the brand with the greatest rise in Ad Awareness
Following the foodie trend, IHOP has dived into the world of inventive, extravagant donuts. YouGov BrandIndex data shows that IHOP's summer ad campaign featuring three new French toasted donuts — bacon and maple, strawberries and cream, and apple fritter — has resonated with consumers. From July to August of 2017, the fast casual chain showed a significant gain in ad awareness, which measures whether someone has seen an ad in the past two weeks.
The first of two television ads — "The Eyebrows Say It All!" — rolled out on July 30, and received prominent placement, including a broadcast during NFL Preseason Football on Fox, according to ad tracker ispot.tv. It has aired more than 2,000 times nationally.
The second ad — "Stop Everything!" — debuted in mid-August and has garnered 2 million hits on YouTube.
Spanish language versions of the ads — "¡Las cejas hablan!" and "Deténgase un momento" — were rolled out simultaneously. These aired on the popular UniMas network, which is aimed at young Hispanic Americans.
As the data shows, IHOP's Ad Awareness score hit a low of 20% in mid-July before climbing to a high of 29% about a month later. At the end of August, 27% of US adults recalled seeing an IHOP ad within the past two weeks.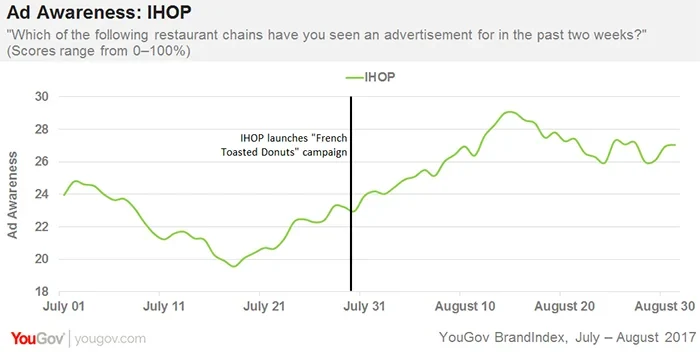 The television ads were only part of the restaurant's multi-platform ad campaign, which also incorporated digital and social. For the first time, the chain also offered free samples at an IHOP food truck in New York City for a day in August. The three French toasted pastries will be available through Sept. 24.
Image: IHOP