In mid-August, nearly four in ten US consumers said they were open to buying goods from the company
Thus far, 2017 hasn't been too kind to Bed Bath & Beyond. After an underwhelming earnings report in June, the home furnishings retailer's share price dropped to its lowest level in eight years. Compared to the same time period the year prior, sales had remained flat at $2.7 billion.
As Bed Bath & Beyond prepares to release its results for the second quarter of 2017, which comprises the months of June, July, and August, data from YouGov BrandIndex shows a notable boost in Purchase Consideration. More specifically, around mid-August nearly four in ten US consumers reported that they would consider shopping at the retailer when next in the market for home goods. Indeed, Bed Bath & Beyond provides a "Campus Checklist" in the hopes of attracting college students, or their parents, before the fall semester begins.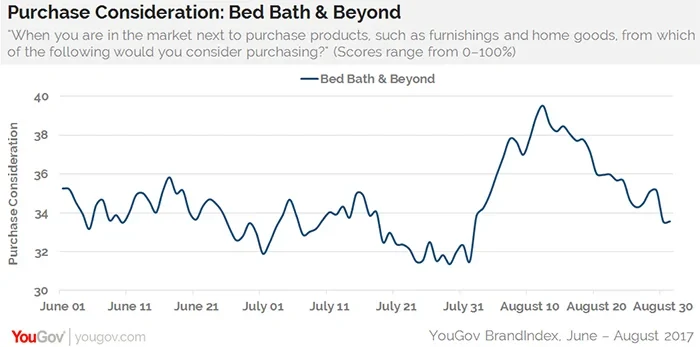 At the same time, however, interest in buying doesn't always translate into action. Additional data shows that while more US adults reported making purchases from Bed Bath & Beyond throughout the month of August, the increase was rather mild compared to June and July.