Numbers show that consumer contentment for Snapple is more volatile than it is for sister brand Dr Pepper
The Dr Pepper Snapple Group, which plans to release its third quarter earnings results next week, is home to many beverage brands, such as Canada Dry, Hawaiian Punch, RC Cola, and, as of this past January, Bai.
New data from YouGov BrandIndex shows that the company's two namesake drinks — Dr Pepper and Snapple — have different relationships with the public when it comes to quenching thirst.
Dr Pepper, for instance, receives relatively stable Satisfaction scores from customers. Since January 2017, the soft drink's Satisfaction level has ranged from a high of 28 to a low of 23 (5 points). Snapple's score, meanwhile has recently sunk from a high of 30 in mid-September to a low of 22 about a month later (8 points).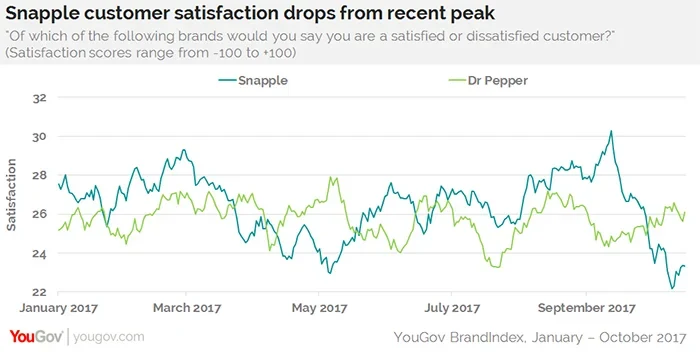 Indeed, a look back at the data over the past few years suggests that consumer sentiment toward Snapple is more volatile than it is for Dr Pepper, with the former brand regularly receiving higher highs and lower lows on Satisfaction.
Image: Getty