In the past few months, the restaurant chain's Index score has increased by 50%
As Yum! Brands, Inc. prepares to release its earnings report for Q3 2017 next week, its Tex-Mex fast food chain Taco Bell appears to have a more positive image among US consumers than at any time in the past five years.
According to YouGov's Index score — which measures the public's overall perception of a brand by averaging six key metrics, such as Impression (Do you have a good or bad impression of the brand?) and Reputation (Would you be proud or embarrassed to work for the brand?) — Taco Bell has recently moved from a 10 in mid-July to an all-time high of 15 in mid-October. That's a 50% increase.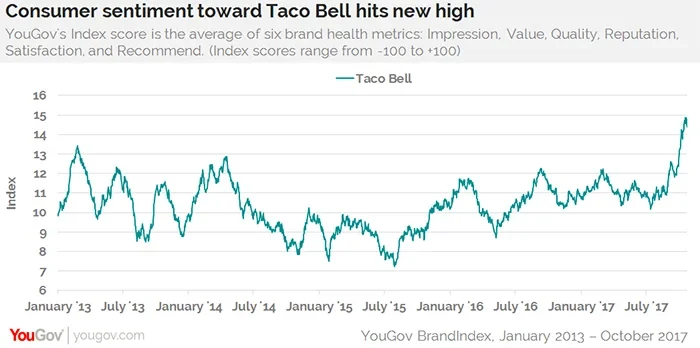 Possible reasons for the recent spike in consumer perception are numerous. In mid-August, Taco Bell announced a new menu item called the Naked Egg Taco, which contains potatoes, cheese, and a choice of either bacon or sausage. To honor National Taco Day on October 4, the chain offered its customers a $5 box set that included four types of hard-shell tacos. More recently, a social analytics firm named Taco Bell the "Top Performing Restaurant Brand on Social Media," due to its proven record of generating content that resonates with its audience. All of this adds up.
Other YouGov figures reveal that Taco Bell has also seen a recent bump in Purchase Consideration, meaning that more consumers report being open to visiting the restaurant chain when next in the mood for something to eat or drink.
Photo: Getty