20% of Americans who celebrate Hanukkah say that by Black Friday, it's too late to finish their holiday shopping
Retailers have already started releasing ads about what to expect this Black Friday. YouGov Omnibus's recent poll around holiday sentiments reveals when most Americans think is the best time to put up decorations, go holiday shopping, and start taking down holiday decor. (Hint: results suggest that say you should have your Halloween display down by now).

The retailers were wise to wait until November to release their Black Friday advertisements, as 52% of Americans believe that businesses who advertise for an upcoming holiday a month or more ahead of time are doing so too soon. That said,, 17% of millennials and 14% Gen X'ers say it's never early to start advertising for a holiday.

Over half of Americans believe that Black Friday is the perfect time to do one's holiday shopping (55%). Americans between the ages of 35 and 54 are the most likely to favor shopping during this time (62%), possibly because they're likeliest age bracket to have children under 18. A third of Americans, with millennials and those over 55 years old leading this group, think it's a too soon to be thinking of gifts during Thanksgiving weekend though (34%). But a niche group of consumers say this date is a little too late. 20% of those who celebrate Hanukkah say Black Friday is too late to finish all of one's holiday shopping – perhaps especially this year, when the first candle is lit on the night of December 12th.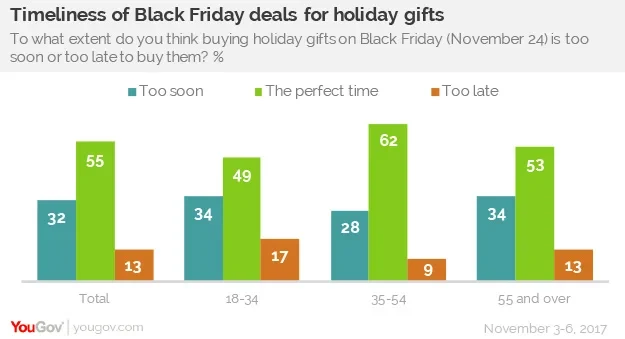 YouGov research also asks how Americans feel about decorations and holiday jingles. When it comes to putting up holiday ornaments, lights, and figurines, a little over a third say that a displaying them a month or more ahead of time is too soon (37%). A quarter of Americans even say that putting decorations up two weeks before the holiday is too early (26%). Counter to this are millennials, who seem the least likely to mind holiday decorations and nearly one in four say that it's never too soon to start putting up decorations (24%). After the holidays, many say that decorations should come down a week to two weeks after the celebration (45%) but a fifth of Americans say that it's alright to keep displays up until a month after the holiday.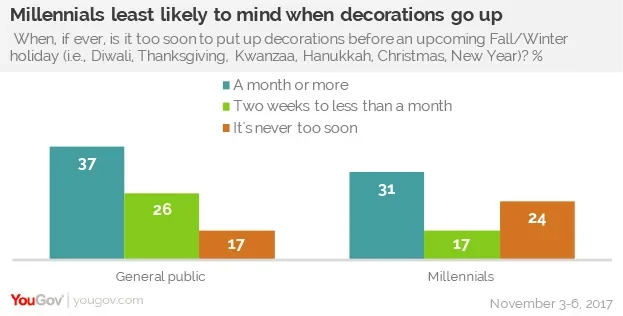 As for those with an itch to whistle "Jingle Bells" or "Holiday Rock", hold off because you're most like to be a minority (18%). With half of Americans saying that it's most acceptable to start listening to Christmas tunes after Thanksgiving (51%), you're better holding off until after the turkey is carved.
Read more results from this poll here
Learn more about YouGov Omnibus research
Image: Getty