Over one-third of US consumers familiar the restaurant chain are open to eating there when next in the mood for food
New data from YouGov BrandIndex shows that Chick-fil-A is currently scoring higher on both Purchase Consideration and Satisfaction than rivals KFC, Popeyes, and Church's Chicken with adults who are aware of each restaurant brand.
According to YouGov BrandIndex's Purchase Consideration metric – which asks respondents if they'd consider buying a particular brand when next in the market for the relevant good or service – 35% of US consumers familiar with the restaurant chain say they'd be open to choosing Chick-fil-A for their next dining experience. KFC, meanwhile, shows a current Purchase Consideration score of 26%, followed by Popeyes with 17% and Church's Chicken with 9%.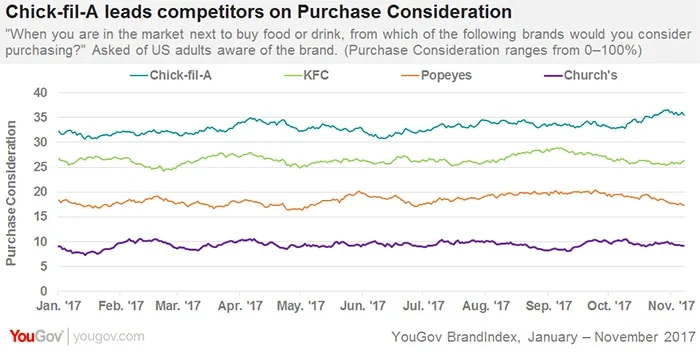 On Satisfaction, which asks respondents if they'd consider themselves either a satisfied or dissatisfied customer, Chick-fil-A has also maintained the highest score since January 2017. At present, each brand's Satisfaction score stands as follows: Chick-fil-A (60), Popeyes (34), KFC (30), and Church's Chicken (21).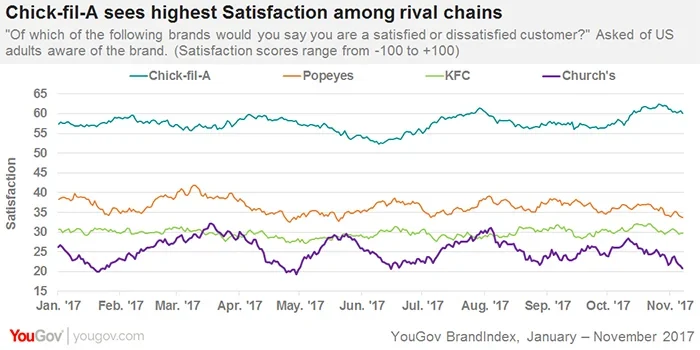 Chick-fil-A has been investing heavily in growing their presence around the US, opening 19 new restaurants in October and planning a five-story location in New York City's Financial District. The Atlanta-based restaurant chain reported nearly $8 billion in sales for 2016.
Photo: Getty