More consumers are hearing positive things about the coffee chain following this year's cup launch than past ones
As Starbucks celebrates 20 years of tradition by releasing its latest holiday cup, new data from YouGov BrandIndex suggests that consumer sentiment toward the brand is better than it has been around this time in the past few years.
Two weeks after Starbucks launched this year's holiday cup, Starbucks's Buzz score – which asks respondents if they've heard anything positive or negative about the brand in the past two weeks – sits at 13. This is one point higher than two weeks after Starbucks released its 2014 cup, and three points higher compared to 2016's iteration.
Starbucks's present Buzz score is also 18 points higher than this time in 2015, when the brand debuted a plain red holiday cup without a hint of the familiar snowflakes, stockings, or ornaments. This noticeable absence of festive symbols caused anger among some shoppers who perceived the decision as a slight against Christmas.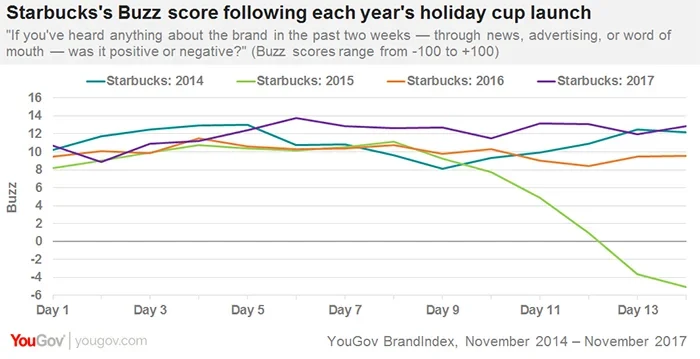 On YouGov BrandIndex's Word of Mouth metric, which asks respondents if they've discussed a brand in the past two weeks, Starbucks is showing a similar strength. At present, one in four (25%) of US consumers recall talking about the coffee chain with friends or family members, which is higher than this time of year in both 2014 and 2016.
In 2015, 29% of people were discussing Starbucks two weeks after its red holiday cup became available in stores. Considering the brand's Buzz score, however, consumers were likely discussing the cup's controversy. This year's cup, which features a decorated Christmas tree and stack of presents, doesn't appear to be attracting the same negative attention.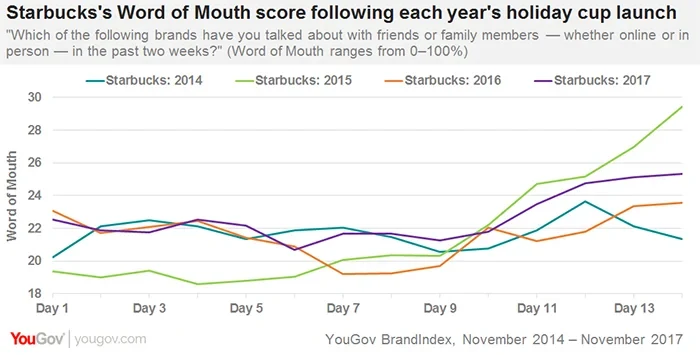 In the past few weeks, Starbucks has also received its highest Satisfaction scores since YouGov BrandIndex began tracking the brand a decade ago. This indicates that a growing number of US consumers consider themselves satisfied customers of the coffee chain.
Photo: Starbucks