The apparel brand's recent attempts to win over male shoppers are working
Lululemon Athletica Inc., which plans to release its latest earnings report next week, has recently reached its highest Quality score in nearly two years among men familiar with the brand, according to new numbers from YouGov BrandIndex.
In mid-September, Lululemon, largely known for selling yoga pants, launched its first ad campaign aimed at men. Titled "Strength to Be," the campaign features men who occupy traditionally masculine roles, such as a surfer, boxer, and rapper. About two months later, by mid-November, men were giving Lululemon a seven-point higher Quality score than women (17 to 10), marking a notable difference in how the two consumer groups have viewed the brand in the past.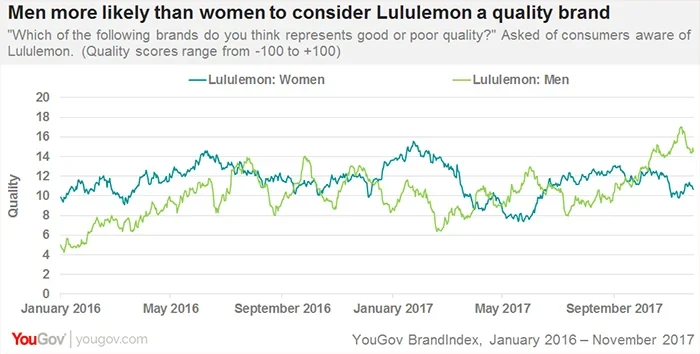 In January 2016, Lululemon's Quality score – which asks respondents if they think a particular brand represents either good or poor quality – sat at 10 with women familiar with the brand and 5 with men. At present, the gap has reversed: Men give Lululemon a 15 on Quality, while women, remaining relatively stable in their view, give the brand an 11.
Last August, Lululemon CEO Laurent Potdevin told analysts that men's items are still one of the company's "best-kept secrets," and that the brand hopes this category accounts for over $1 billion in annual revenue by 2020.
Photo: Getty