Consumers currently have a more positive view of the retailer than at any point in the past few years
As Dollar General prepares to report its financial results for Q3 2017 next week, the discount store is showing favorable signs among US shoppers, according to new data from YouGov BrandIndex.
On Impression, which asks respondents if they hold an overall positive or negative impression of a particular brand, Dollar General hit a new high score of 21 in October. This recent increase in Impression among the American public has corresponded with a 21% rise in the company's share price between the beginning of September and end of November.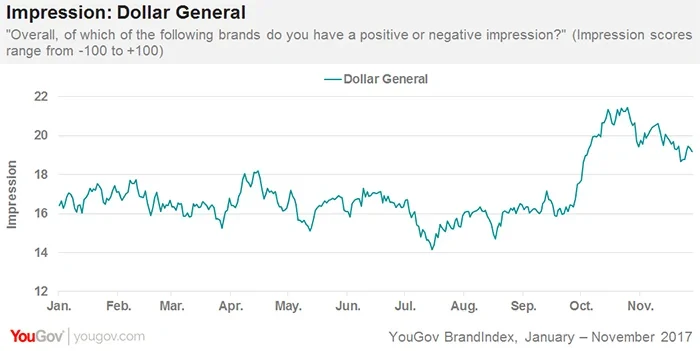 On Value, which asks respondents if they think a particular brand represents either good or poor value for their money, Dollar General is also performing better than it has in the recent past.
At present, US consumers give the retailer a Value score of 16 – up six points from early August, when the company's fiscal third quarter began.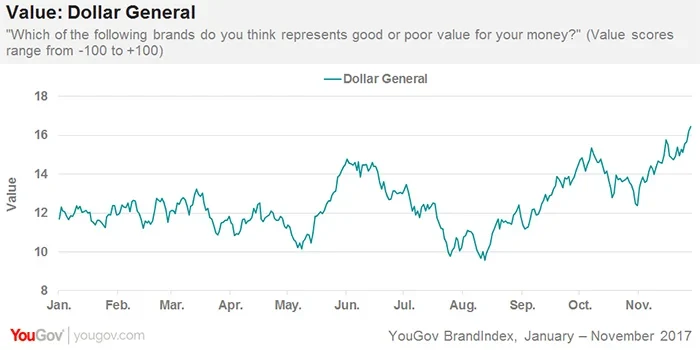 In Dollar General's second quarter, the company reported an 8.1% increase in revenue compared to the same period last year. Same-store sales also grew by 2.6%.
According to the company's latest annual report, Dollar General operates over 13,300 stores across 43 states.
Photo: Getty