Data shows that 22% of current and former Casey's customers are open to shopping at the Midwestern convenience store when next in the market for food or drink
A week after the Midwestern chain Casey's General Store announced that it opened its 2000th store, new data from YouGov BrandIndex shows that current and former customers of the convenience store are reporting the highest levels of Purchase Consideration for the brand in years.
Back in January, this group of consumers gave Casey's a Purchase Consideration score of 15%, meaning that fewer than one in five current and former customers were open to shopping at Casey's when next in the market for groceries. Throughout the year, this number has climbed to a new high of 22%.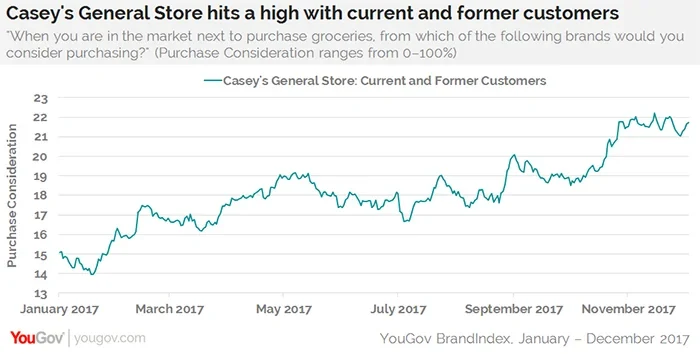 Additional data from YouGov Profiles shows that 66% of current and former customers of Casey's General Store say they sometimes eat out of boredom, not hunger, compared to 58% of the general public. Furthermore, 68% say they often snack between meals, while the same is true for 64% of US adults overall.
Photo: Casey's General Store