Commercials which played up the nostalgia of Toys "R" Us kids and worries about Santa's naughty list worked for the store
A difficult 2017 may be over for Toys "R" Us, which filed for bankruptcy in September, but there's good news for the toy seller: The brand saw huge Ad Awareness gains over this holiday season, according to YouGov BrandIndex.
Data shows that awareness of Toys "R" Us ads started growing before Black Friday and held through the month of December. The retailer's Ad Awareness score, which asks whether someone has seen an ad for the the brand in the past two weeks, started November at 15 and ended the month at 25. As December came to a close, the brand's score topped out at 28.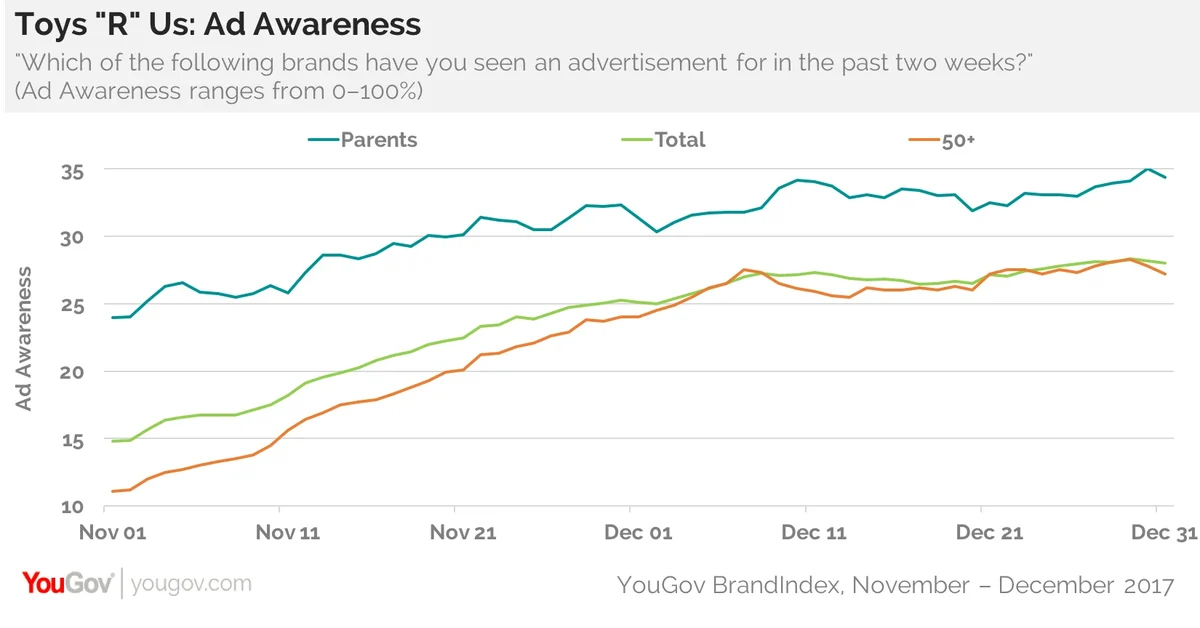 One big demographic gainer for these months was the 50+ crowd, who started November with an Ad Awareness score of 11 and ended December at 27. Those with children under the age of 18 were far more likely to have seen an ad overall and still saw gains – from a low of 24 at the beginning of November to a peak of 35 at the end of the year.
The retailer earned some particular attention this year for its nostalgic Christmas ad, which harkened back the chain's glory days. "Let's never grow up, keep doing like we did, so you'll always be Toys 'R' Us kids," sang the female voice-over.
Earlier in the season, the brand also launched a series of ads titled "The Naughty List Is Not an Option", which focused on kids going out of their way to please their parents to ensure they get their Christmas wishes.