Nearly three-quarters of Americans say they'll be buying a gift for at least one child this holiday season
With Hanukkah underway and Christmas and Kwanzaa in just a few weeks, many people are turning their attention to holiday shopping. According to new data from YouGov Omnibus, at least three-quarters (76%) of Americans say that they plan to purchase gifts for others this holiday season. And the number of people they're shopping for can quickly add up, between family members, friends, coworkers, neighbors and others. Over one-third (35%) say they're planning to give gifts to five to eight people, while 19% say they'll be giving gifts to nine to 12 people. Women are generally planning to give more gifts than men are. Many people are planning to buy something for the kids as well: Close to three-fourths (73%) of Americans say they'll be buying a gift for at least one child this holiday season.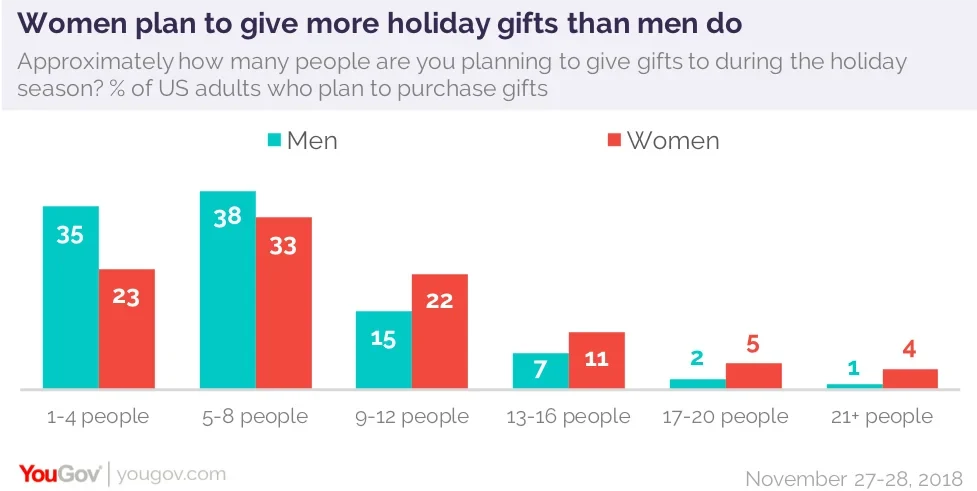 When it comes to where they're buying gifts, online shopping is still king, with 46% of people saying they do all or most of their holiday shopping online. About one-quarter (26%) do all or most of their shopping in-person, while a similar number of people (25%) do about half their shopping online and half in-person.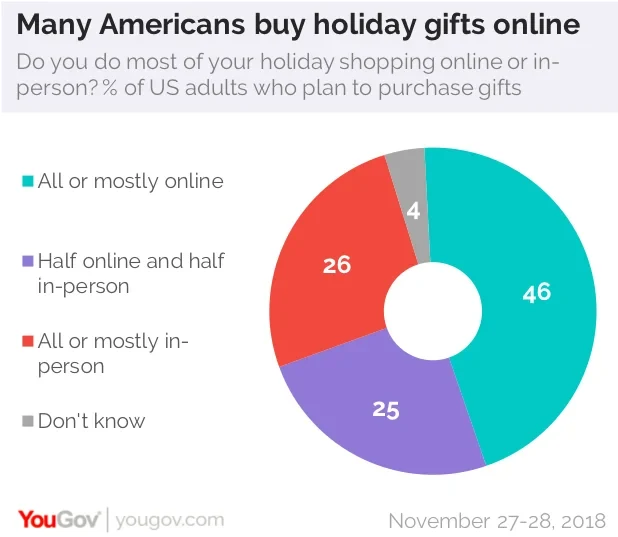 People with incomes of less than $40,000 annually are particularly likely (30%) to say they do a majority of their shopping in-person. Only 23% of those who make $40,000 - $80,000 annually, and 21% of those who make more than $80,000 agreed.
The practice of holiday gift-giving is both meaningful and stressful for many Americans. A majority (58%) say gift-giving is an important family tradition, and nearly two-thirds (64%) agree that a gift is a good expression of how you feel about someone. But 60% also agreed that they'd be happy to celebrate the holidays without doing any kind of gift exchange, while 58% say that shopping for gifts is stressful.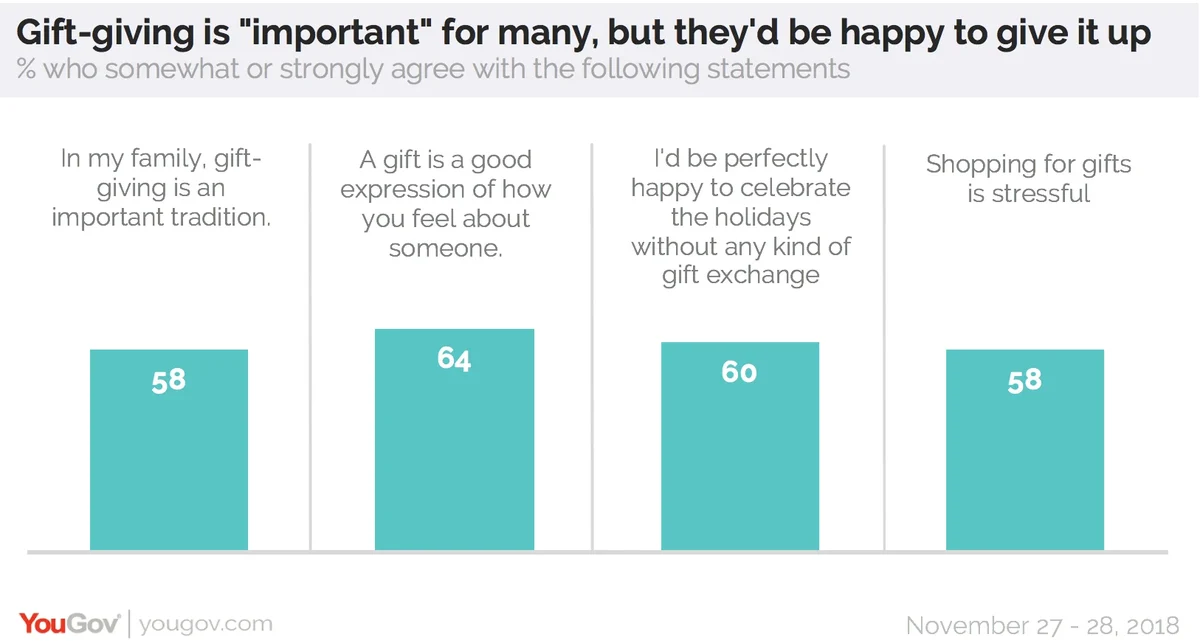 Six in ten (60%) people say they're good at finding gifts their friends and family enjoy. Women (66%) and people who are parents of children under 18 (73%) are particularly likely to agree with this statement. Parents are also more likely (65%) to consider gift-giving an important tradition for their family.
As of November 27-28, when this survey was conducted, many people had already started their holiday shopping: 27% say they'd already bought between one and three gifts, while 21% had already purchased 4 to 6 gifts and 15% had already bought between seven and 10 gifts. One in five (20%) hadn't done any holiday shopping yet.

See full results here and read more about how people plan to do their holiday shopping.
Learn more about YouGov Omnibus.
Image: Getty