Additional data shows that only around one in five US adults have tried them
While major media outlets, from USA Today to The Today Show, Harper's Bazaar to Esquire, continue to compile their own lists of subscription boxes, recent data from YouGov RealTime shows that the majority of American consumers have never tried them.
For instance, 80% of US consumers ages 18+ say they've never subscribed to a service that regularly delivers health and hygiene products, such as razors or shampoo, to their home. A similar number of people say the same about companies that provide beauty and cosmetic products (80%), as well as groceries and meal kits (81%). When it comes to delivering household goods, such as paper towels and laundry detergent, 85% of shoppers say they've never subscribed to such a service.
That said, younger adult consumers appear more open to the idea of subscription boxes than the general public. Nearly half (47%) of US consumers ages 18-34 say they're either very likely or somewhat likely to consider subscribing to at least one of the four aforementioned types of services. For all US adults, that percentage of interest stands at 33%.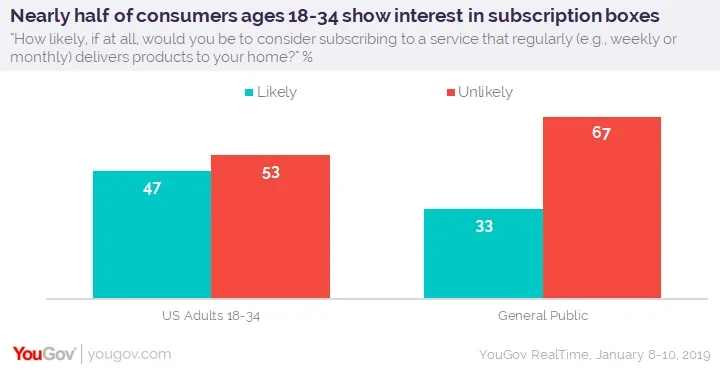 Overall, the top perceived potential benefit of subscription boxes is that they save consumers time from shopping (48% of US adults think this). Other advantages US adults see in these services is that they'll never run out of a product they need (39%) and that they don't have to remember to manually buy the products themselves (33%).
For the most part, younger consumers are aligned with the general public on the potential benefits of subscription boxes. US consumers ages 18-34, however, are slightly more likely than the average American adult to think subscription boxes are good for simplifying their budget (26% vs. 18%), saving money by subscribing in bulk (36% vs. 29%), and providing an ability to try new products they wouldn't otherwise (26% vs. 20%).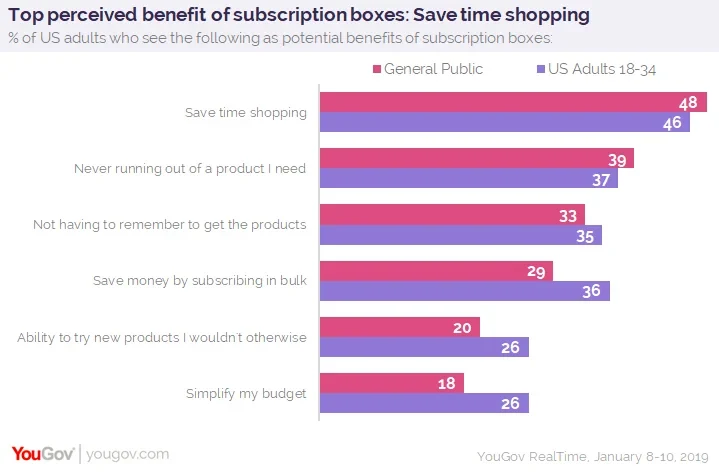 As for the potential drawbacks, 53% of shoppers worry it would ultimately cost more money to have a subscription box than not, while 52% show concern that they may not use the products quickly enough and end up with more than they need.
Much like the potential benefits, younger consumers are mostly in agreement with the general public about the potential disadvantages of subscription boxes. The greatest divide occurs over the question of using the products quickly enough: 42% of shoppers ages 18-34 say they consider it a potential drawback, compared to 52% of the general public.