7% of mothers in the US say the thing they want the most for Mother's Day is a day to themselves
If you haven't bought a Mother's Day gift yet, there's still time. And luckily, the things that many Americans moms want happen to be gifts that can be pulled together even at the last minute.
Recent data from YouGov RealTime finds that the most popular gift requests from American moms are flowers (9%), a gift certificate for a massage/spa day (9%), or a card (8%). Other popular gifts include "having a day to myself," (7%) or a keepsake gift such as an engraved photo frame or another personal item (6%).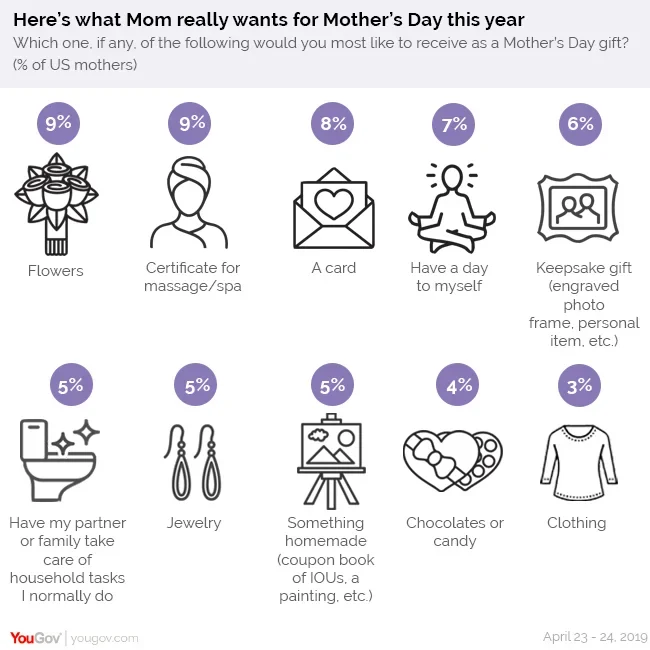 Another 5% of moms want someone else to take care of the household tasks, while an equal number would be happy to receive jewelry (5%) or something homemade (5%).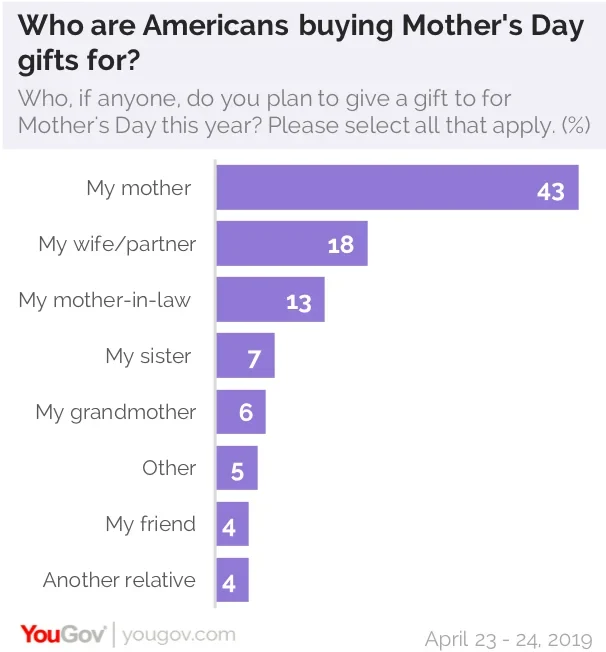 The least likely requests from moms in the US this year are breakfast in bed (1%), electronics (1%), or household/kitchen items (1%).
Nearly two-thirds (65%) of adults in the US plan to give a Mother's Day gift to at least one person in their lives. About four in ten (43%) people plan to give something to their own mother, while 18% plan to give a gift to their wife/partner, and 13% plan to pick up a gift for their mother-in-law.
See full results here.
Learn more about YouGov RealTime and sign up to be a panelist here.
Methodology: Nationally representative sample of 1,213 US adults, conducted online April 23 - 24, 2019.
Image: Getty