Followers of VitaCoco's Twitter account (@vitacoco) may have gotten more than they bargained for when the brand tried to stir up attention for its new line of pressed coconut drinks in mid-May.
The company pulled a stunt to increase awareness but ended up going viral because of a jar of urine. Oddly, this story has a happy ending, according to YouGov's Plan and Track data.
VitaCoco's stunt wasn't exactly new. The brand's social media team targeted people on Twitter who have said bad things about their brand in the past and offered to try and win them over with free stuff.
They tried with Tony Posnanski, a writer and amatueur MMA star, who had made this comment a week earlier.
Except, they didn't win over Posnanski. Instead a Twitter war ensued, some vulgar things were said, and Posnanski suggested that he would prefer the "social media persons" urine to a VitaCoco's product.
VitaCoco then tweeted a photo of it social media person holding a jar full of, well, you get the gist.
At this point, you might expect VitaCoco to reverse course on this particular tactic and attempt to, say, delete the tweet.
Instead, the brand doubled down -- the offending photo briefly became the company's Twitter profile picture, its executives gave interviews about the stunt, and articles were written.
According to YouGov's BrandIndex, the pee pee tweet might not have accomplished exactly what VitaCoco was after, but it didn't hurt them either.
The company maintained or even slightly increased in Purchase Intent, which tracks whether or not people say they plan to buy from a brand soon. That's an important metric to pay attention to when your brand is taking a social media risk because sales are key. Similar metrics for Consideration, which asks whether people would consider buying from a brand soon, Quality and Value remained level.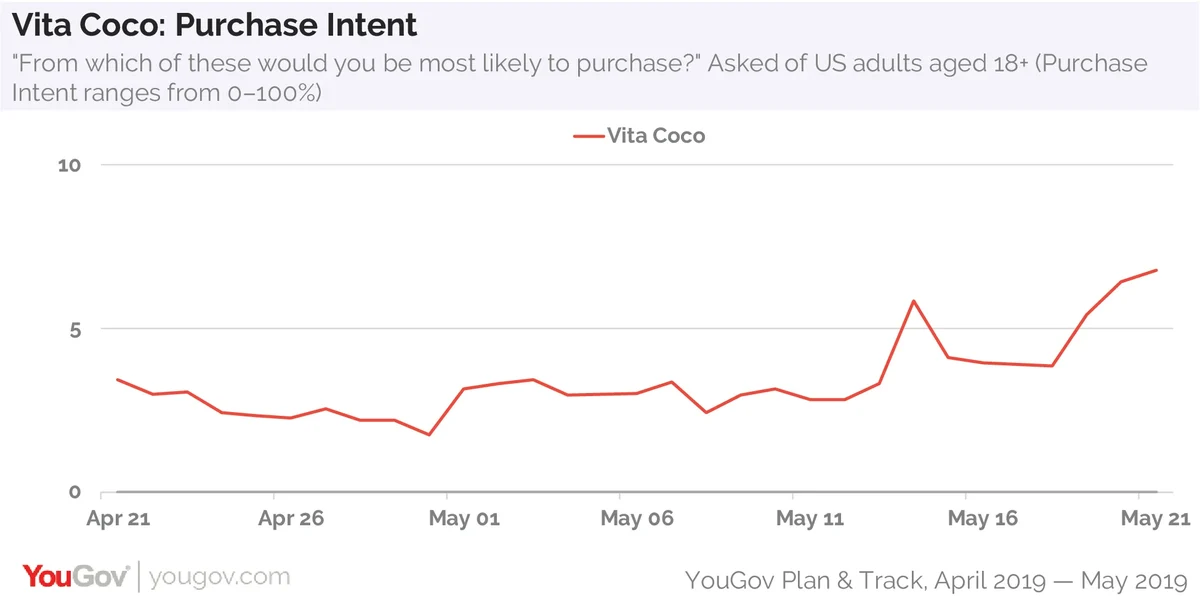 Unfortunately for VitaCoco, YouGov's data shows that they didn't get much movement on its Attention, Buzz or Word of Mouth scores, which all measure various ways that people might have heard about a brand.
This outcome could easily be viewed as a win, however. Buzz measures whether or not someone has heard something negative or positive about a brand and VitaCoco's. An objective observer might expect to see a decline in Buzz score if the stunt were generating negative sentiments about the brand, but that doesn't appear to have happened.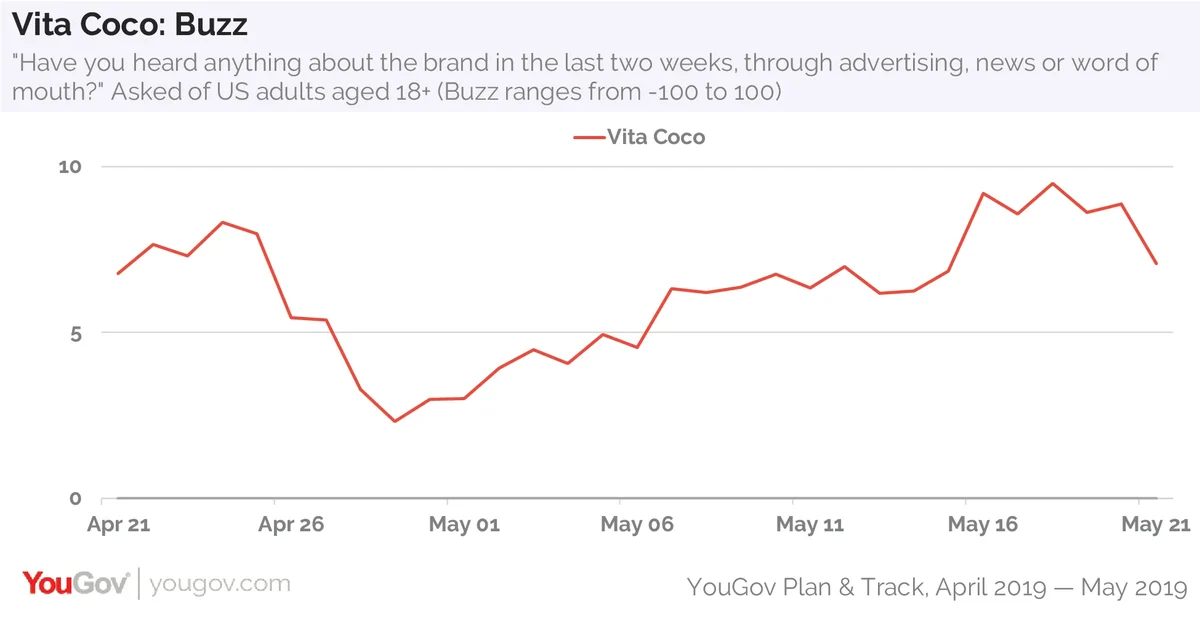 Maybe more importantly for VitaCoco, its core fans value the power of social media more than the average American. According to YouGov's Plan and Track data on consumer attitudes shows that current customers of VitaCoco say they are more apt to use social media to share information about topics that matter to them (87% vs. 65% for average American), and more likely to appreciate a brand that takes a position on a social issue (74% vs 49% for the average American).
That could mean that VitaCoco has strengthened its relationship with its best customers by turning to social media for its campaign and in engaging in a war of words with an aggressive critic.
Photo: Getty