IHOP wants to be all about burgers, again.
One year after changing its name to IHOb to introduce hamburgers to its menu, the restaurant is doubling down on the concept and changing the name of its new line of burgers to pancakes. We'll let them explain.
"Last year, IHOP introduced the award-winning IHOb — for burgers — advertising campaign and the Internet had a lot to say about it," IHOP wrote in a press release issued Monday. "It told IHOP to stay in their lane. To stick to pancakes. So, this year, IHOP is taking the Internet's advice by calling their new Steakburgers 'Pancakes.'"

IHOP is returning to the well for a reason.

Last year's "IHOb" gimmick, which was meant to promote the fact that IHOP had added burgers to its menu and was more than just a breakfast spot, worked as an attention grab. According to YouGov data from, the brand earned a lift in attention around the time of the name change.

IHOP's Word of Mouth score, which measures whether US consumers aged 18+ have discussed a specific brand with friends or family members in the past two weeks, jumped from 14% of American adults that were talking about the brand on June 4 when the company announced the change to 29% a month later.


Similarly, IHOPs Ad Awareness score — which measures whether US consumers aged 18+ have come across an advertisement for a particular brand in the past two weeks — reached an all-time high of 47% in July 2018.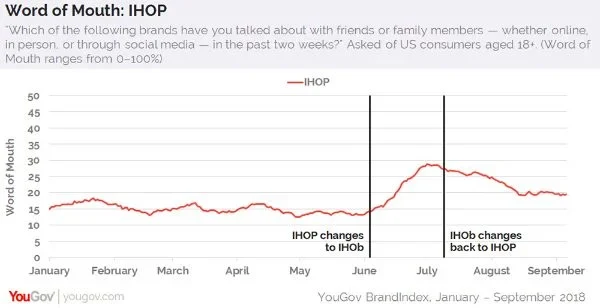 The boost in Word of Mouth has since faded, but the spike must have been tantalizing for executives because IHOP is going back to the well on its campaign and getting creative with the alphabet to push a hamburger innovation.

A note of caution exists for the burger push, however. Burgers might not be the biggest sales opportunity.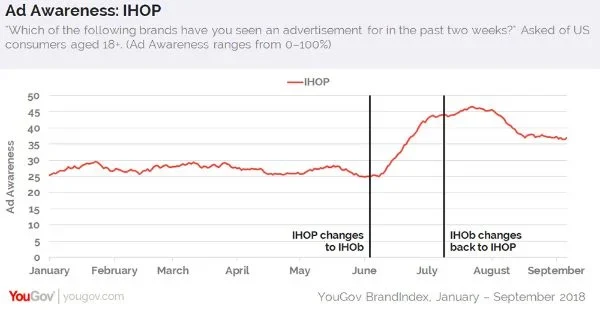 According to YouGov's Purchase Consideration metric — which gauges the percentage of US consumers aged 18+ that are open to dining at a restaurant chain when next in the market for food or drink — interest in visiting an IHOP location declined from 45% on June 4 to a low of 33% about a month later among people who had either discussed the brand or seen an ad in the past two weeks.Following July 9, the day IHOb changed back to IHOP, the brand's Purchase Consideration score eventually began climbing back up to 43% among the same consumer group, essentially returning to pre-IHOb levels.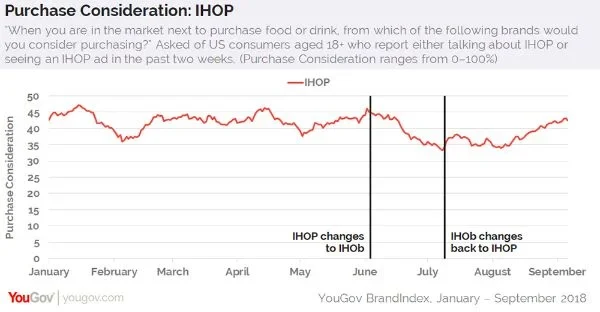 About a year after the IHOb promotion, however, the company's Purchase Intent score has fallen to its lowest level at any time since YouGov began tracking the brand in 2012. That means, there might only be upside to the new burger promotion: a little attention couldn't hurt.