Crocs footwear isn't exactly known for its celebrity endorsements.
But the maker of foam clogs has been seeing a spike in Buzz because of its celebrity focused "Come As You Are" global marketing campaign, according to YouGov Plan and Track data.
The brand launched the initiative in 2017, but really started to see benefits in terms of brand awareness and buzz in 2019 when it announced the signing of Zooey Deschanel, British actress Natalie Dormer, Chinese actress, dancer and model Gina Jin, South Korean actress and gugudan girl-band member Kim Se-Jeong and Japanese actress and model Suzu Hirose.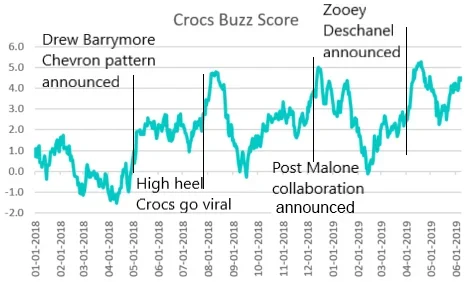 The shoemaker's Buzz score, which measures whether someone has heard something positive or negative about the brand, is near its highest levels since YouGov began tracking the company. Deschanel and Dormer have helped, but the upward trajectory probably started with Drew Barrymore. Barrymore made a musical style advertisment for the company in March 2018 and announced a custom-designed line of chevron patterned Crocs in May of that year.
Since Barrymore's signing, the Buzz score has been climbing and Crocs has been adding new talent. Among the more interesting pairings is Post Malone, a Millennial rap superstar who designed two separate special edition series clogs for Crocs starting in 2018. Both iterations sold out almost instantly, and Malone and Crocs announced in May 2019 another round of collaboration.
Celebrity shoe endorsements are typically the stuff of sports. But the Crocs has deployed the strategy in its own, quirky way. Not only have they collaborated with Malone and Deschanel, but also with the classic rock band Kiss and country star Luke Combs. Not your average shoe endorsers. That approach allows Crocs to have fun with its endorsements and target narrow channels.
Other celebrities could fit the Crocs model, and maybe offer even more upside for the shoe brand, according to YouGov Plan and Track data.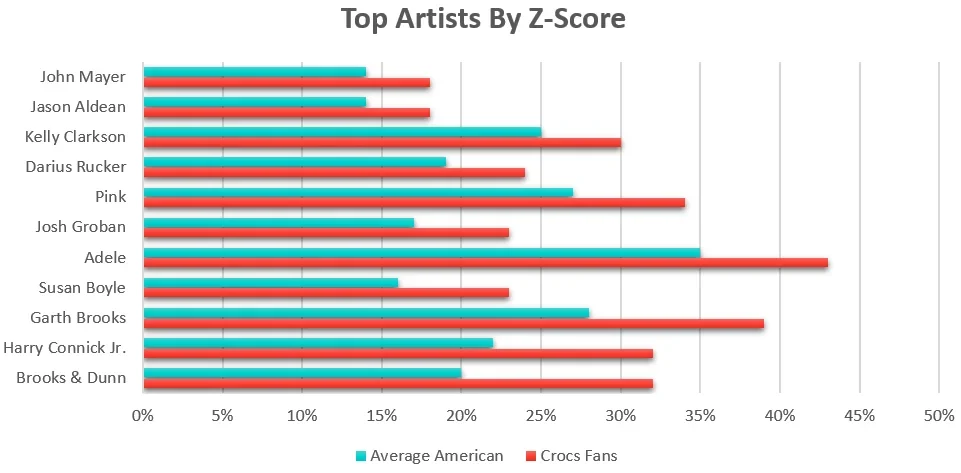 Crocs fans -- individuals who either like or really like the brand, or consider themselves current or former customers -- are far more likely than the average American to be female (62% vs 51%) and more likely to be a Baby Boomer (38% vs. 29%).
They prefer the following music genres more than the average American: Classic rock (43% vs. 36%), Folk (17% vs 13%), Country (30% vs. 25%), and Jazz (20% vs. 17%).
That might seem to suggest that Crocs was onto something with its collaborations with Kiss and Luke Combs.
But YouGov's Plan and Track data suggest someone who might make an even better fit.
Crocs fans were more likely to be fans of the artists in the chart above, which is sorted by Z-score, or the difference between how Crocs fans and average Americans feel. These artist could give Crocs the biggest bang for their buck with their customers.
The top scoring artists were Brooks & Dunn, a retired country act, followed by Harry Connick Jr. and Garth Brooks.