The fried chicken chain, Popeyes, saw its advertising awareness go flying after a quick reaction to selling out of its crispy chicken sandwich nationwide.
On August 12, Popeyes began selling its own take on America's favorite crispy chicken sandwich—served on brioche with mayo and pickles. The meal became a must-try sensation as Popeyes battled with Chick-fil-A for sandwich dominance on social media. By August 27, Popeyes had completely sold out of its new chicken sandwich.
Amid the sandwich shortage, Popeyes launched a 30-second advertisement named, "Popeyes BYOB Box," which poked fun at the bun deficit while keeping consumers interested in their other products. In the September 12 video, Popeyes shows customers purchasing their three-piece chicken tender combo and invites them to "BYOB" or "Bring Your Own Bun" to turn it into a sandwich.
Despite the shortage, Popeyes achieved one of the most significant improvements in Ad Awareness scores (whether someone has seen or heard an advertisement by a company in the past two weeks) among American consumers in September, according to data from YouGov Plan & Track.
While the chicken sandwich wars benefitted Popeyes and its competitors, data indicates that the 30-second "BYOB" advertising launch gave Popeyes a further boost in awareness. At the start of August, 19 percent of Americans say they saw an ad for Popeyes. By September 13, that figure increased to 28 percent.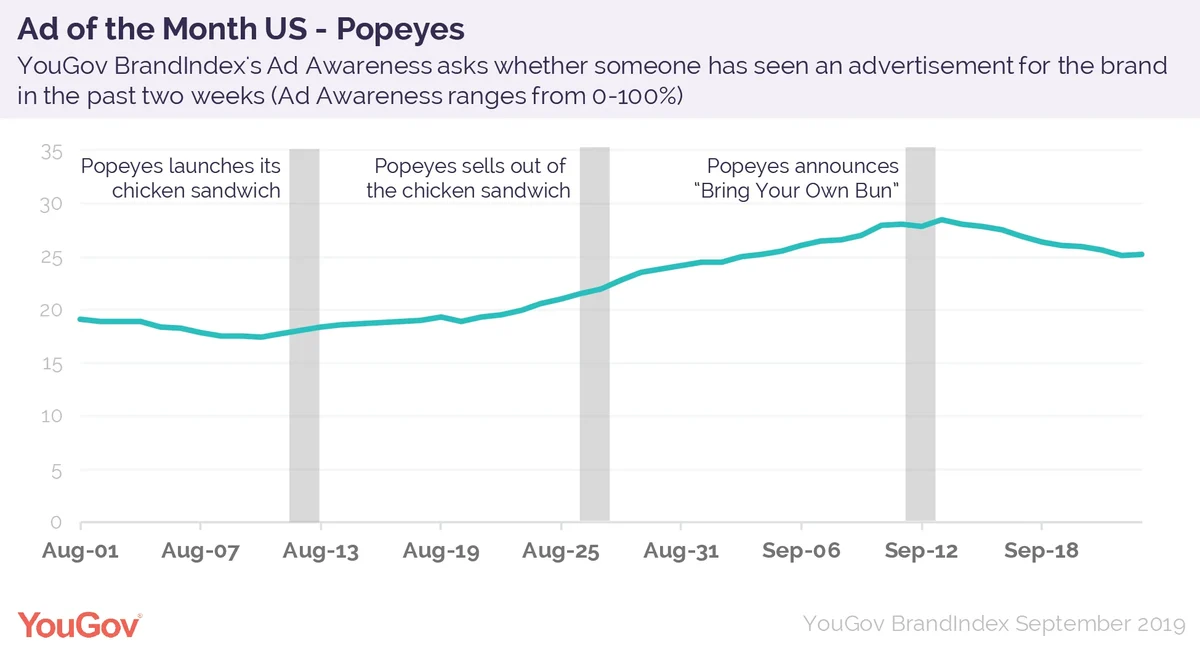 Other data from YouGov indicates that the quick-eat chain is most-popular among men and Millennials. People who have a positive opinion of Popeyes describe it as good quality, tasty, good value, and family-friendly.
Learn more about YouGov Plan & Track.
Image: Getty