If you walk into almost any diner in America, you can order a hearty breakfast plate of bacon, eggs, and toast, with some coffee to wash it all down. But new data from YouGov finds that not everyone likes their breakfast items done the same way.
Most Americans (81%) drink coffee. In this survey, YouGov showed Americans images of coffee with varying levels of milk and asked which image came closest to how they prefer their coffee.
A majority (60%) of Americans add at least some milk to their coffee. A plurality (39%) add milk until their coffee is light tan, while 11 percent go even further. One in 10 (10%) adds just a little bit of milk, while about one-fifth (21%) of Americans drink their coffee black.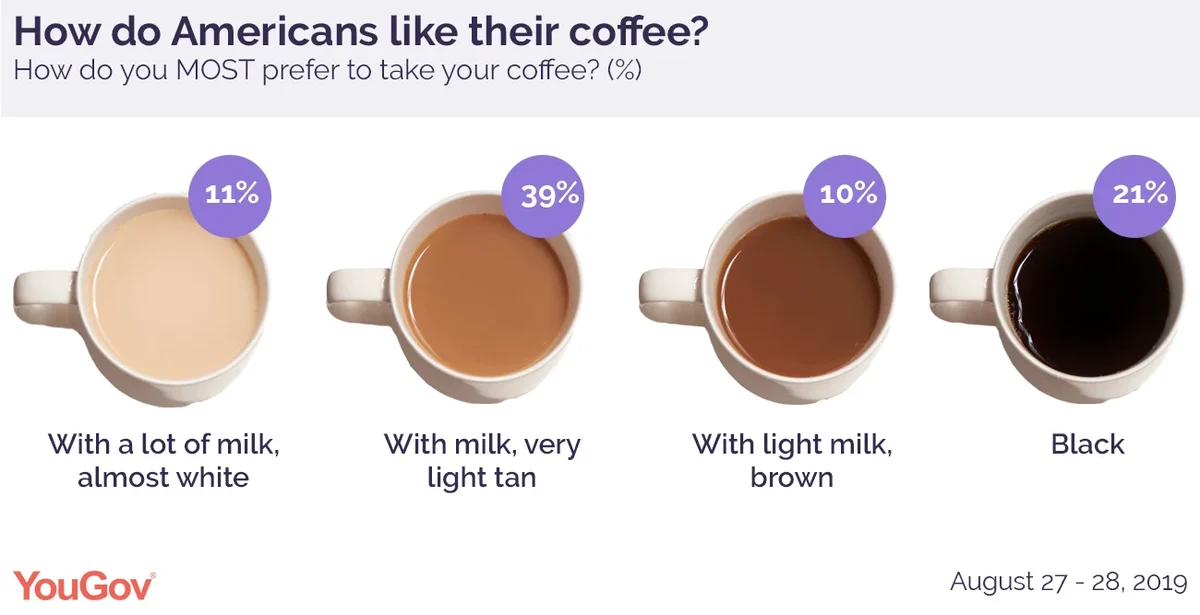 Another 19 percent of US adults don't drink coffee in the first place.

Of course, coffee alone isn't a complete breakfast. YouGov also surveyed Americans on how they prefer their toast, their eggs, and their bacon.
Americans were shown images of bread slices that have been toasted to various degrees and asked which one comes closest to their preferred level of toasting. A majority (58%) prefer their bread to be "somewhat lightly toasted," while about three in 10 (28%) prefer it to be a little bit darker. Another 4 percent prefer for their bread to be very darkly toasted, while 1 percent want their toast to be completely burnt.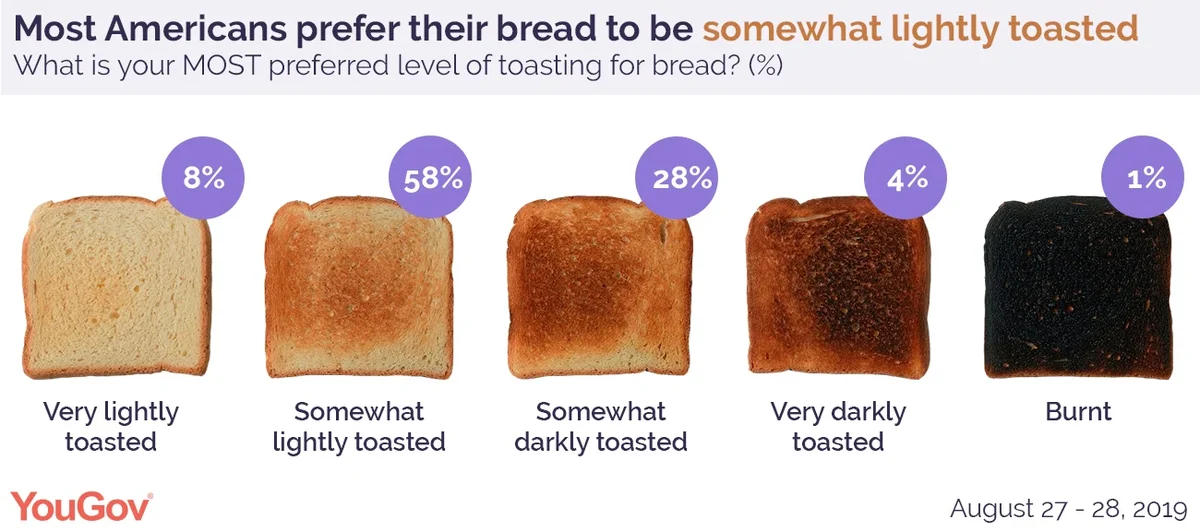 Further data from this survey shows that when it comes to eating eggs, Americans tend to like scrambled eggs the best.
More than one-third (36%) say this is their most preferred way to consume eggs for breakfast. Other popular choices include eggs over easy (18%), sunny side up (12%), and eggs over medium (11%). Another 6 percent like their eggs to be hard-boiled.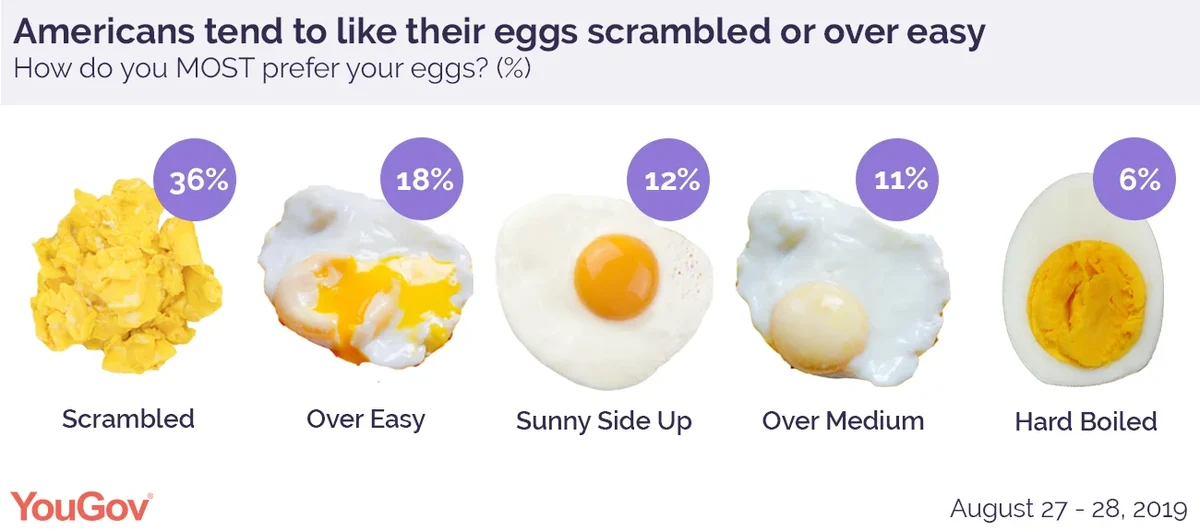 For many (93%) Americans, it's not a real hearty breakfast without a few strips of bacon. About seven in 10 (71%) like their bacon to be somewhat (37%) or very (34%) crispy. One in five (20%) prefer their bacon to be a little chewier.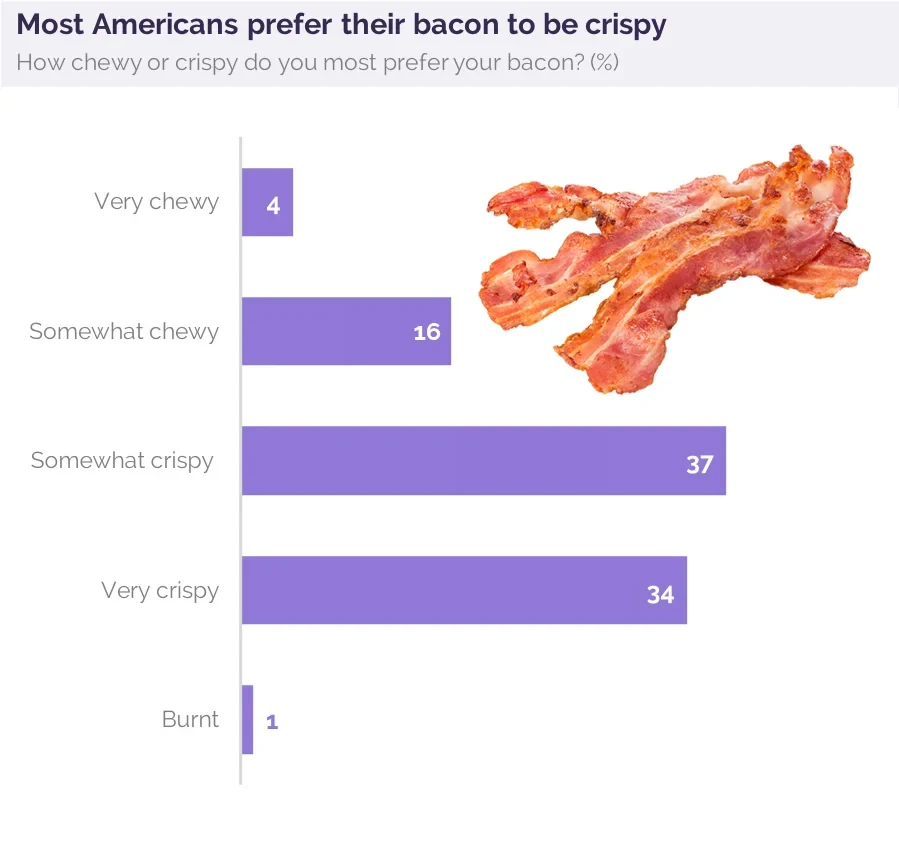 So, what does America's ideal breakfast platter look like?
Based on the most popular responses for how Americans like their coffee, their toast, their bacon, and their eggs, a potentially ideal American breakfast platter with these items looks something like this: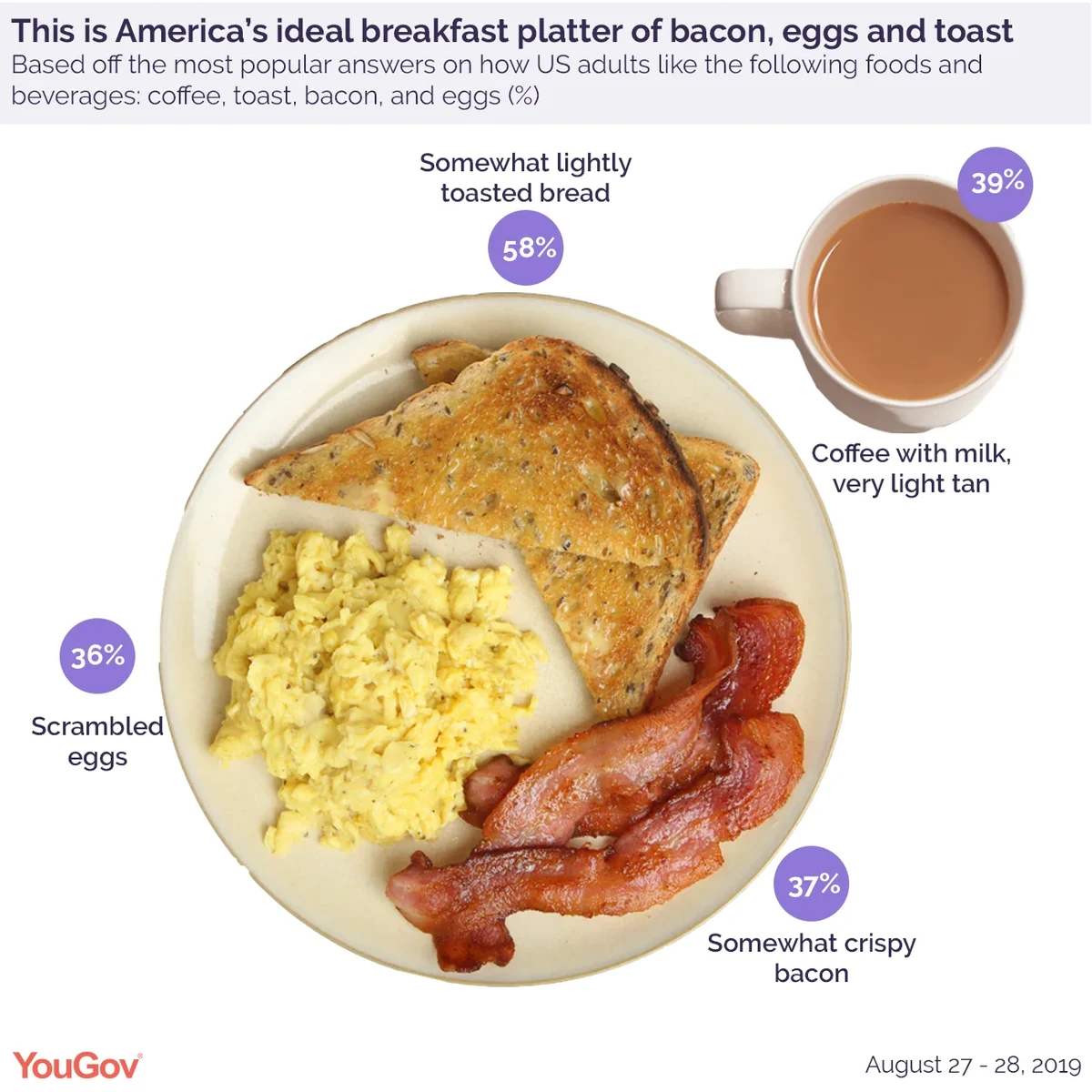 See full results from this survey here.

Methodology: Total unweighted sample size was 1,295 US adults. Respondents were shown pictures of coffee with varying levels of milk added and bread toasted to various degrees, and asked to choose the picture that best matched their preferred levels for these items. Respondents were not shown pictures of eggs or bacon, but asked to choose a description that best matched how they prefer to eat these items. The figures have been weighted and are representative of all US adults (ages 18+).
Related: How Americans order their steaks and hamburgers
How do you like your eggs, coffee, bacon, and toast? Sign up for our panel and share your opinion.
Images: Getty