The Addams Family is scaring up awareness for IHOP.
The fast-casual breakfast chain IHOP saw a sharp uptick in advertising awareness this past month after it launched a campaign that featured Addams Family-themed menu adaptations. This movement in brand awareness is what makes IHOP's Addams Family spot the YouGov Ad of the Month.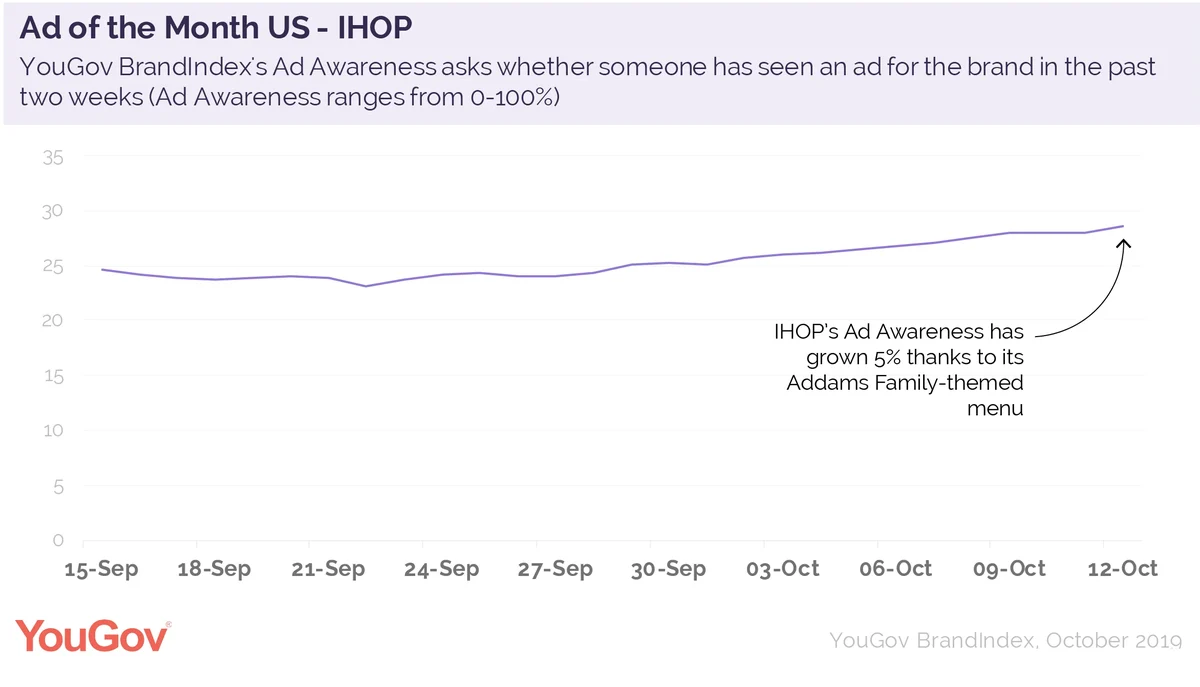 IHOP's themed menu and campaign coincided with the release of the Addams Family reboot, which is now in theatres.
IHOP's limited-time menu includes Morticia's Haunted Hot Chocolate, Uncle Fester's Chocolate Ice Scream Shake, Gomez' Green Chili Omelette, Wednesday's Web-Cakes and Kooky Kids Combo.
The Addams Family ad spot, featuring the titular family, launched in mid-September, ahead of the film's October 11 release date. According to YouGov Plan & Track, since the ad was released, IHOP saw one of the most significant increases in Ad Awareness scores (which tracks whether someone has seen or heard an advertisement by a company in the past two weeks) between September 24 and October 24.
Before the ad's release, IHOP's Ad Awareness was at 24%. That figure shot up to 29% and is still trending up.
IHOP is no stranger to cross-promotion with Hollywood. In 2018, it unveiled a Dr. Seuss' The Grinch-themed menu ahead of that film's release, at which time IHOP's Ad Awareness saw similar gains.
According to other YouGov data, IHOP is most popular with Baby Boomers and is described by fans as: Good value for money, family-oriented, family-friendly, good quality and excellent customer service.
Learn more about YouGov Plan & Track.
Image: Getty