Unless you've been to the Lone Star State, the supermarket chain H-E-B may not ring any bells. But a YouGov analysis spanning the last calendar year shows that H-E-B is the top recommended brand among current customers.

YouGov's 2020 Recommend Rankings reveals that 91.2 percent of H-E-B's current customers say they would endorse the brand to friends or colleagues. The Texas-based grocery store takes top honors just above other top recommended brands such as Alka-Seltzer (87.5% of Alka-Seltzer's current customers would recommend the brand), the Mayo Clinic (86.9%), Texas Roadhouse (86.3%), Aldi (86.2%), Trader Joe's (86.1%), Chico's (85.8%), USAA (85.5%), Samuel Adams (85.5%), and Lush (85.3%).

Category leaders in the consumer packaged goods (CPG) sector

Below are highlights from the top Recommended brands in the US across various CPG categories:
H-E-B is the most Recommended brand among all brands, including in the Grocery Stores category; other leaders in this category include Aldi (Recommend score of 86.2%), Trader Joe's (86.1%), Wegmans (85%), and Sprouts Market (83.9%);
Kind (84.4%) leads the Snacks category, followed by Ghirardelli (83.2%), and Emerald Nuts (82.2%);
Samuel Adams (85.5%) is the top Beer brand, followed by Yuengling (85.1%), Guinness (85%), Heineken (84.4%), and Fat Tire (83.4%);
Among all Spirits brands, Grey Goose (84.8%) is most Recommended followed by Crown Royal (84.1%), Maker's Mark (83%), Jameson (82.1%), and Baileys (81.7%);
Soap brand Mrs. Meyer's (84.3%) takes the Household Goods category, followed by Dawn (83%), Seventh Generation (82.5%), Method (81.2%), and Clorox (79.1%);
UK-based Lush (85.3%) ranks first among all Hair and Skin Care brands, followed by Gold Bond (84.7%), Bath and Body Works (84.7%), Dove (84.2%), and Nivea (83.9%);
In the OTC Drugs category, Alka-Seltzer (87.5%) comes most Recommended ahead of Centrum (83.8%), Imodium (83.4%), Airborne (83%), and Systane (82.9);
Adidas (85.1%) tops the Recommend rankings in the Apparel and Footwear category, followed by Duluth Trading Co. (85.1%), Skechers (84.8%), New Balance (84.8%) and Under Armour (84.3%)

What makes H-E-B—particularly its customers—special?

Much like your favorite regional supermarkets—the Krogers, the Meijers, the Publixes, etc.—H-E-B markets to a specific group of people based on where they live. Except that H-E-B has the advantage of a strong cultural force: Texas pride.

An analysis of 451 current customers of H-E-B reveals that they are more likely to be rally behind patriotism: Nine in 10 (90%) H-E-B customers say they are proud to be American (vs. 81% of US adults). More importantly for H-E-B, this offers the brand a chance to convert patriotic sentiments into sales. By 83 percent to 77 percent, H-E-B customers are more likely than the average consumer to say they make an effort to support American businesses—a statistically significant difference.

This passion and love for everything H-E-B represents has built a cult around the brand, not unlike Trader Joe's own cult-like following. H-E-B offers a range of Texas-themed products—from tortilla chips to skillets—and to this day has no plans to expand the company outside the Lone Star State. The company's website says it's been "proudly serving Texans since 1905", when the chain of over 340 stores was just a single family store. Today, H-E-B ranks as the 11th largest private company, according to Forbes.

The grocer's success can be attributed, in part, to how well it moves people through stages of the purchasing funnel—a marketing model that illustrates the consumer journey toward the purchase of goods or services.

Notably, H-E-B (19.1%) has a lower rate of Awareness nationally when compared with larger grocers like Aldi (68.3%) and Whole Foods (76.5%). But according to YouGov data the Texas grocer has a 26 percent conversion rate from Awareness to Purchase Consideration, a YouGov metric that measures whether people would consider buying from a brand.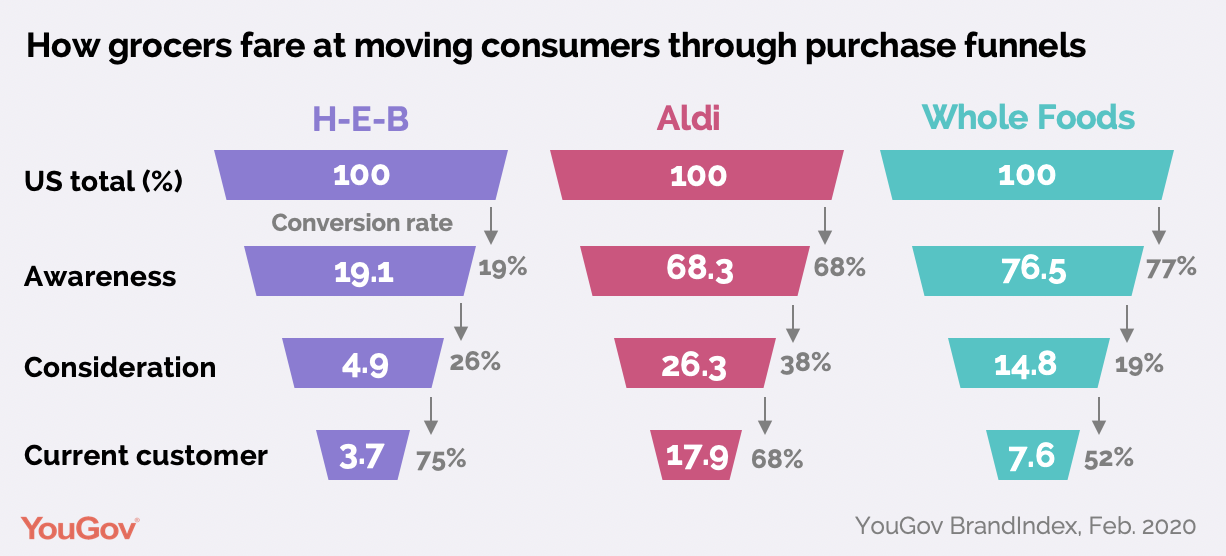 H-E-B's most effective rate of conversion occurs between the Purchase Consideration and Current Customer stages, which measures the percentage of a brand's customers across the United States. At a rate of 75 percent, H-E-B fares better at converting people who would consider buying from the brand to actual customers than Aldi and Whole Foods do (68% and 52%, respectively).

Another factor in H-E-B's success lies in its customers—particularly their inclination to recommend the brands they love to friends and family. H-E-B customers can be powerful brand advocates; they are especially likely to say they love recommending things for people to try (66% vs. 59% of US adults).

YouGov's data points to further customer insights: H-E-B customers say they are more likely to recommend a brand (54% vs. 45% of US adults) and spend more money with a brand (63% vs. 55%) when they are a member of their loyalty program. H-E-B offers customers a chance to redeem points with every dollar they spend at its supermarkets through the Points Club Rewards program.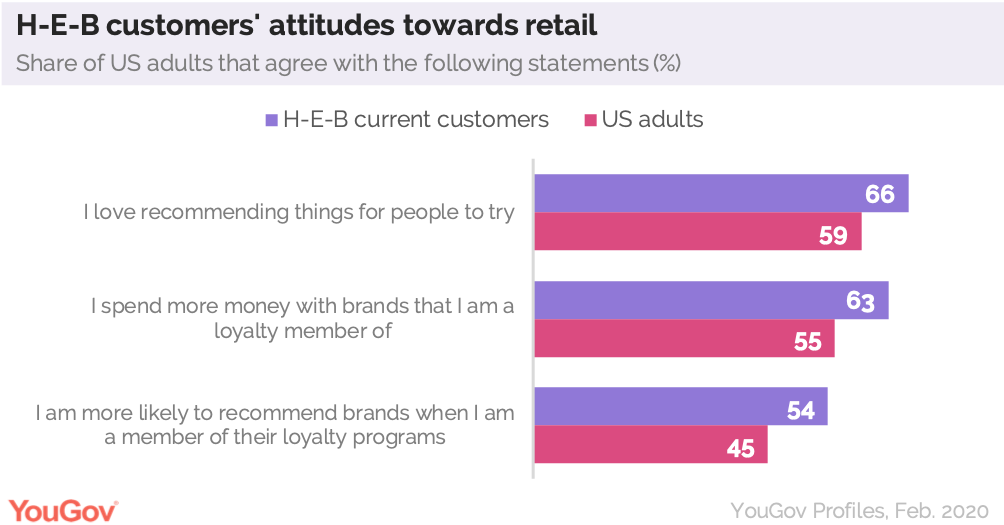 Methodology: The 2020 Recommend Rankings were created by calculating the percentage of customers of each brand who say that they would recommend that brand to a friend or colleague. The ranking data was collected between January 1, 2019 and December 31, 2019. All brands must have a minimum N of 100 and must be tracked for at least 12 months to be included in the ranking All Recommend scores listed have been rounded to a single decimal place; however, we have used additional precision to assign ranks.