The holiday season is often synonymous with seasonal baking and sharing sweets with loved ones — but if you want to stay on friends' and family's "nice list" there are a few cookie recipes worth breaking out, and a few worth hiding.
A new YouGov poll has revealed the best Christmas cookie by asking 1,314 Americans to choose the better of two cookies in a series of head-to-head matchups. The top cookie to emerge from the trials was America's classic — chocolate chip — which won 78% of its matchups. Chocolate chip cookies hold a wider margin over their nearest rivals, with second-placed sugar cookies fourteen points behind at 64%.
Fudge comes in third on 63%, followed by brownie cookies or brookies (61%), double chocolate cookies (61%), M&M cookies (61%), and shortbread cookies (61%). Other cookies frequently associated with the holidays trailed by just a couple points, including gingerbread cookies (59%-win record), snickerdoodles (59%), and gingersnaps (51%).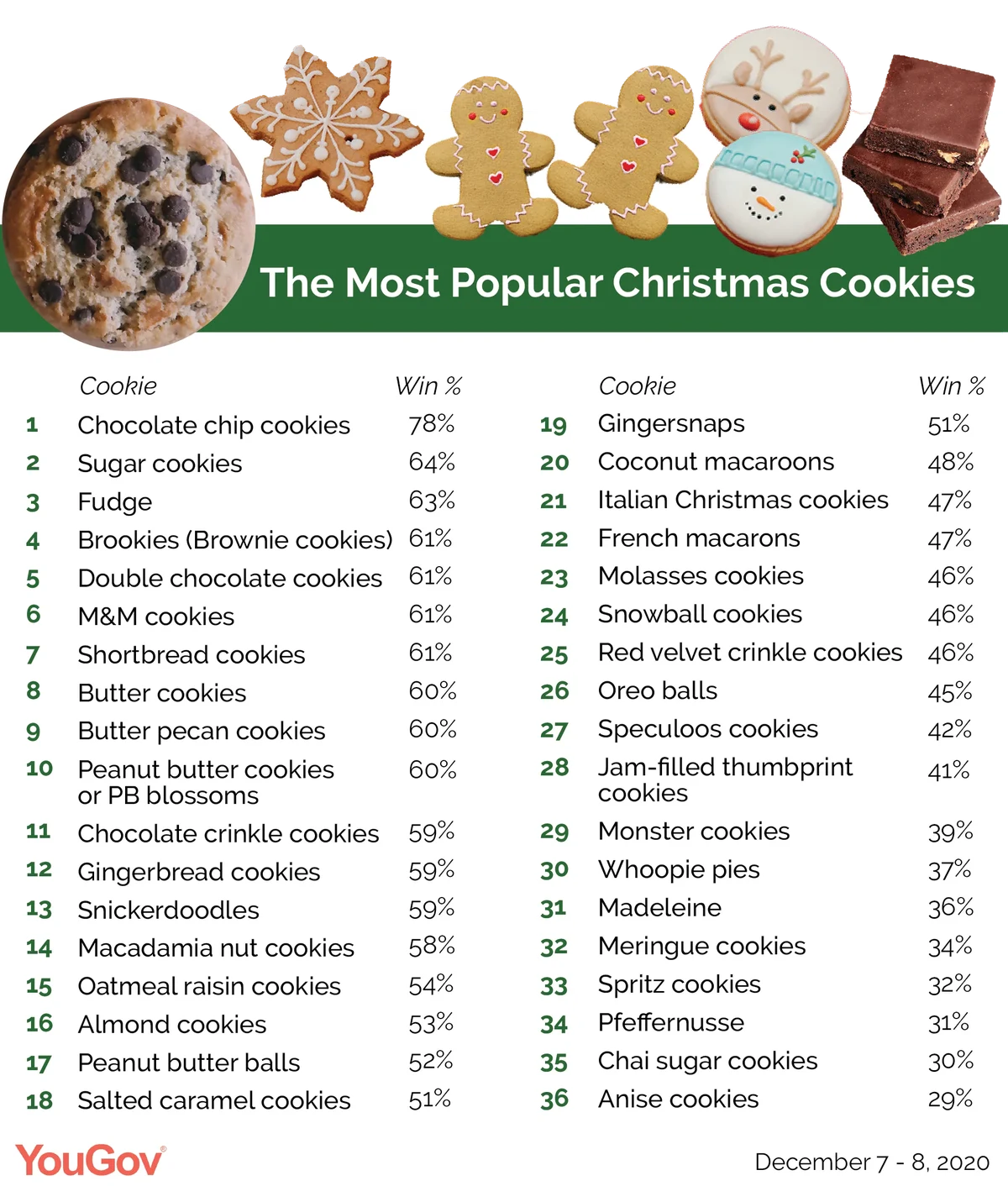 On the naughty list of cookies, Americans gave the lowest win records to anise cookies, which only won 29% of its matchups. Other low performers included chai sugar cookies (30%), pfeffernusse (31%), spritz cookies (32%), and meringue cookies (34%).
Though chocolate chip was the victor in every region, each part of the country has some distinctions in what cookies they prefer. The South is especially favorable toward gingerbread cookies, giving it their number two spot with a 68%-win record. Southerners are also more likely than the country overall to pick peanut butter cookies (65% vs 60%) as their top Christmas cookie.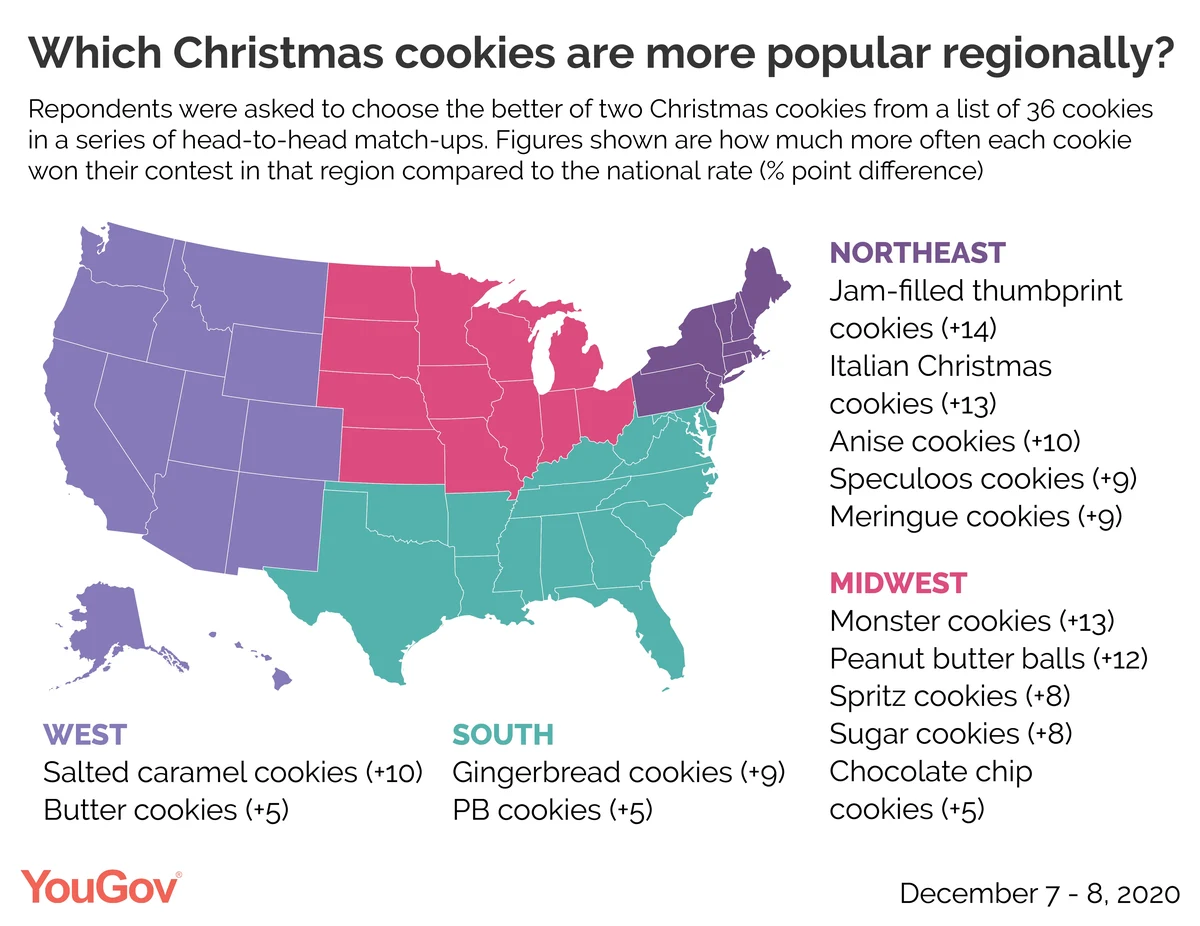 Midwesterners are 13-points more likely than the rest of the country (52% vs 39%) to choose monster cookies — a mix of M&Ms, chocolate chips, oats, and peanut butter — as a winner. The middle of the country also likes peanut butter balls (64% vs 52%) more than other regions.
Westerners are 10-points more likely than the rest of the country to like salted caramel cookies (61% vs 51%) and 5-points more likely to favor butter cookies (65% vs 60%). Those in the Northeast are particularly fond of jam-filled thumbprint cookies (55% vs 41%), Italian Christmas cookies (60% vs 47%), and anise cookies (39% vs 29%).
Contact uspress@yougov.com with questions about this YouGov Poll.
Related: What is the most popular Thanksgiving dish?
Methodology: YouGov ran a survey consisting of 1,314 panelists. Every person was randomly assigned to see 14 different cookies, which appeared in seven head-to-head matchups. For each, respondents were asked to indicate the better Christmas cookie of the two. In the instructions, we told respondents: "On each of the next few pages, you will see two Christmas cookies. On each page, we would like you to select the Christmas cookie that you think is the better one. You will see 7 different matchups between Christmas cookies." YouGov scored cookies by looking at their "win percentage" or how often they were selected as the better Christmas cookie in a head-to-head matchup.
Image: Getty