Take away some holiday stress: YouGov knows exactly what you should put on this year's Christmas dinner menu.
For a holiday dinner that will delight most guests, YouGov recommends setting a table that highlights mashed potatoes or roast potatoes. Those spud varieties are the most popular Christmas dishes — beating even turkey — according to a YouGov poll that asked 1,140 Americans to choose the better of two Christmas foods in a series of head-to-head matchups. Following turkey and potato sides, Americans also placed stuffing and dinner rolls in their top five Christmas dish list.
If turkey isn't your choice of protein — even with its 73%-win percentage among most Americans — you can confidently switch to prime rib (69%), roast beef (66%), steak (65%), chicken (64%), roast pork (64%), or ham (62%). Unless guests specifically request it, most hosts should avoid serving less-popular holiday main dishes like tofu (11%), goose (28%), duck (33%), and lamb (39%).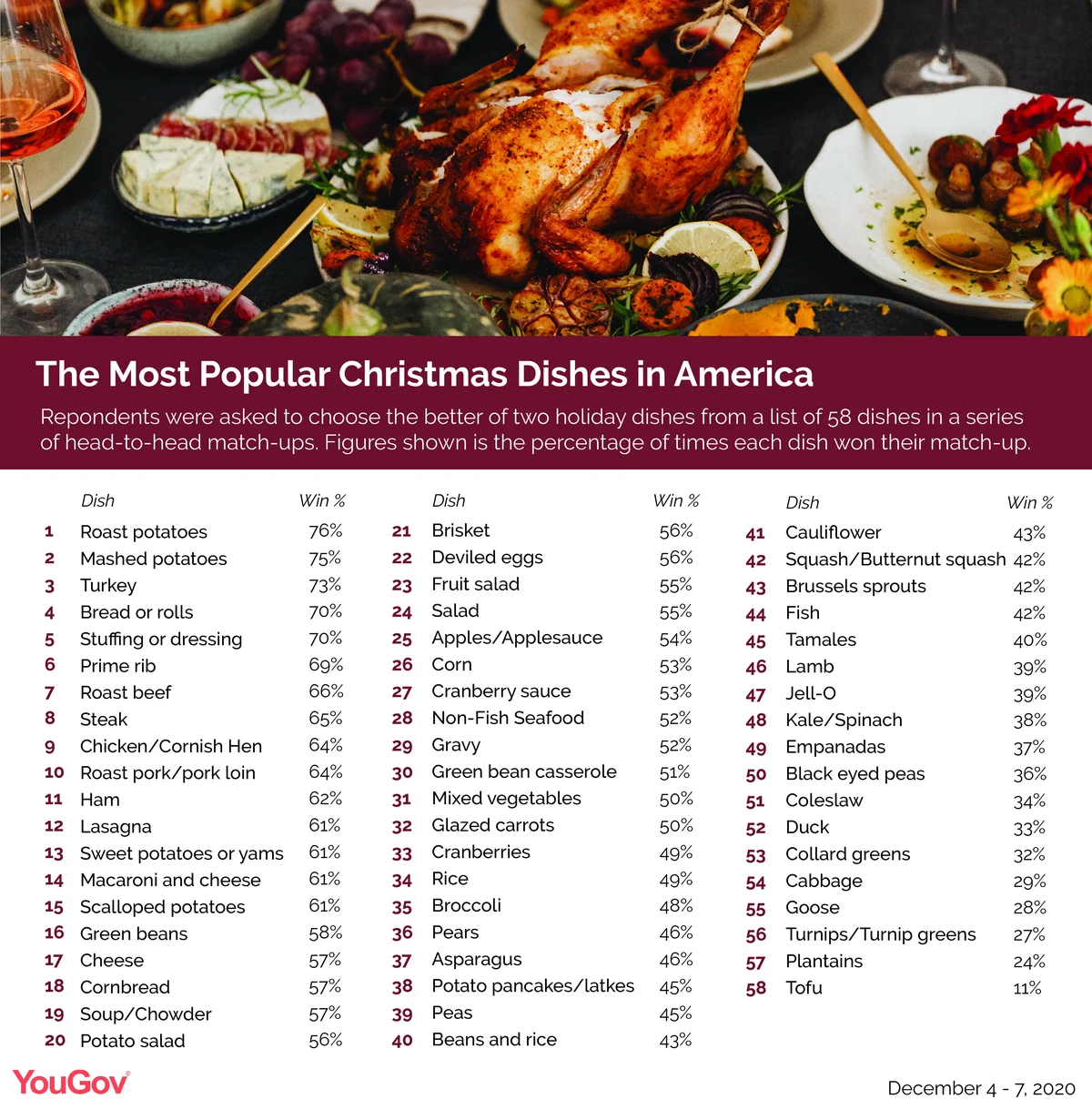 After the top side dishes — which already lean in favor of potatoes and other carbohydrates — Americans also appreciate sweet potatoes (61%), macaroni and cheese (61%), scalloped potatoes (61%), green beans (58%), and varieties of cheese (57%). Christmas side dishes to avoid (unless your guests are fans) include plantains (24%), turnips (27%), cabbage (29%), collard greens (32%), and coleslaw (34%).
That being said, there are certain regions of the country where nationally unpopular dishes are more well-known and favored. The Northeast is especially likely to enjoy the Italian main dish, lasagna (79% vs 61% of all Americans) or Christmas ham (72% vs 62%). Those residing in the Northeast also enjoy fruit salad (69% vs 55%), squash (55% vs 42%), and beans and rice (53% vs 43%) more than the rest of the country.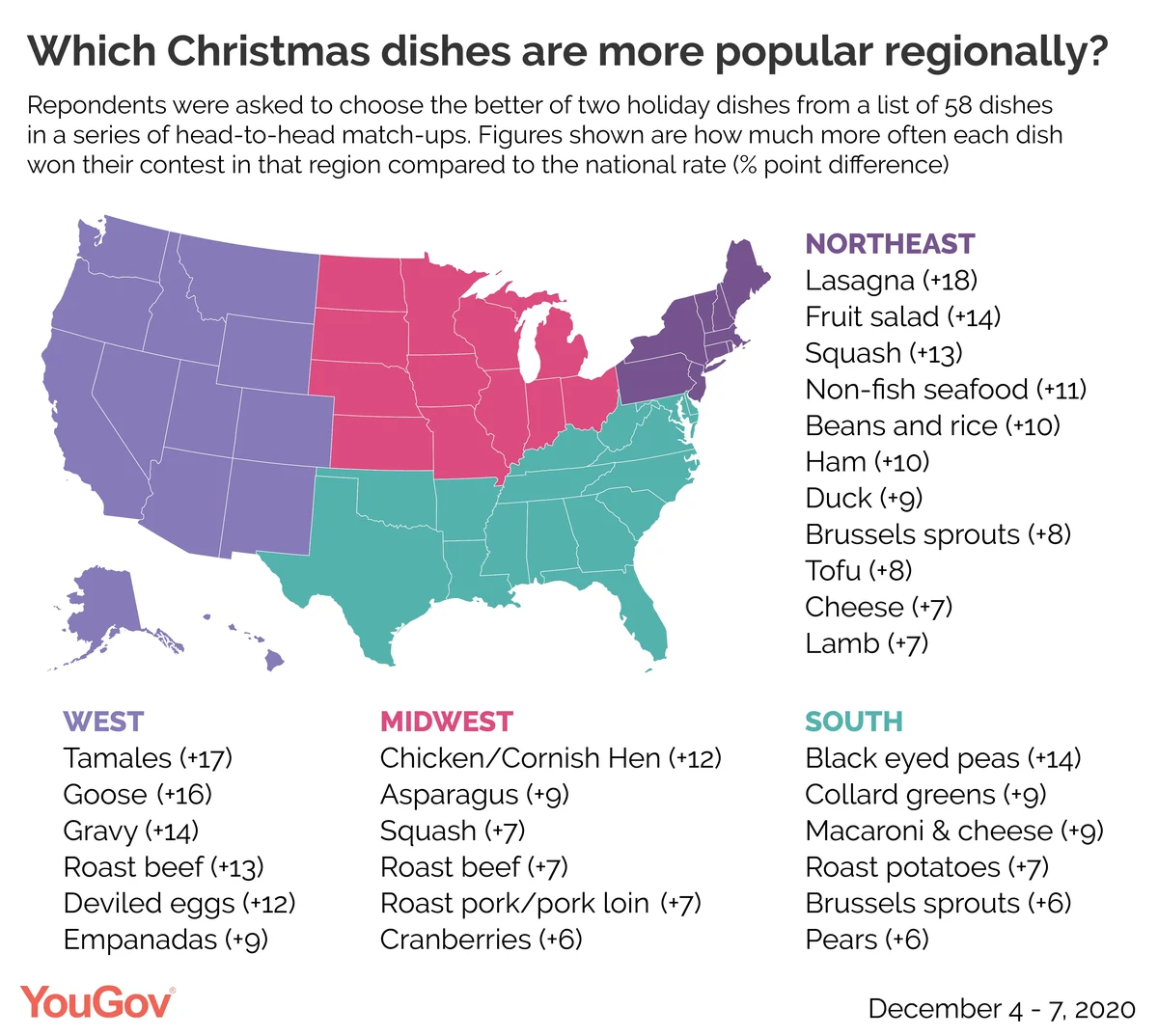 Westerners are 17-points more likely than Americans overall to choose traditional Mexican tamales as a top Christmas dish (57% vs 40%). They are also more drawn toward other Christmas main dishes, including goose (44% vs 28%), roast beef (66% vs 52%), and empanadas (46% vs 37%).
Southerners enjoy their own regional sides, such as black-eyed peas (50% vs 36%) which are seen as lucky headed into a new year. Americans living in the South also favor classics like collard greens (41% vs 32%), macaroni and cheese (70% vs 61%), and roast potatoes (83% vs 76%). Midwesterners only have a few items that they are especially fond of for Christmas, particularly chicken and Cornish hen (76% vs 64%).
Contact uspress@yougov.com with questions about this YouGov Poll
Related: Hot chocolate is America's favorite holiday beverage
Methodology: YouGov ran a survey consisting of 1,140 panelists. Every person was randomly assigned to see 58 different dishes, which appeared in seven head-to-head matchups. For each, respondents were asked to indicate the better Christmas dish of the two. In the instructions, we told respondents: "On each of the next few pages, you will see two Christmas dishes. On each page, we would like you to select the Christmas dish that you think is the better one. You will see 7 different matchups between Christmas dishes." YouGov scored cookies by looking at their "win percentage" or how often they were selected as the better Christmas dish in a head-to-head matchup.
Image: Pexel