Johnson & Johnson's BAND-AID brand of bandages and first-aid supplies ranked highest in the US in YouGov's Best Brand Rankings 2021 – a list of the brands consumers perceive most positively. The adhesive bandage brand tops the rankings for the fifth consecutive year, edging out dish-soap brand Dawn by a narrow margin.
The annual Best Brands Rankings are calculated using data we collect from speaking to thousands of American consumers every day for our brand tracking and measurement tool – YouGov BrandIndex.
Every brand's performance is tracked daily against a range of metrics and the Best Brand Ranking is determined using their Index score – which assesses overall brand health. Our Index score takes into account perceptions of a brand's reputation and customer satisfaction; whether consumers would recommend the brand; their impression of the brand; and whether it represents good value and quality.
With all the time we spent inside this past year, many consumers focused their new reality around making their homes a place they want to be in. From brands that improved our physical spaces to those that kept us clean or brought us comfort –
every brand on YouGov's Best Brand Rankings 2021 in the US centers on enriching people's lives and health at home
.
This explains why Lowe's and Craftsman are some of the most positively perceived brands in 2021 as Americans relied on these brands to help with renovations and projects around their homes.
People also sought out and trusted cleaners and disinfectants such as Dawn, Clorox and, Lysol for improving domestic hygiene.
CPG brands such as Hershey's, M&M's, Cheerios, and Quaker also earned high levels of customer approval and round out this year's list of top ten best brands in the US.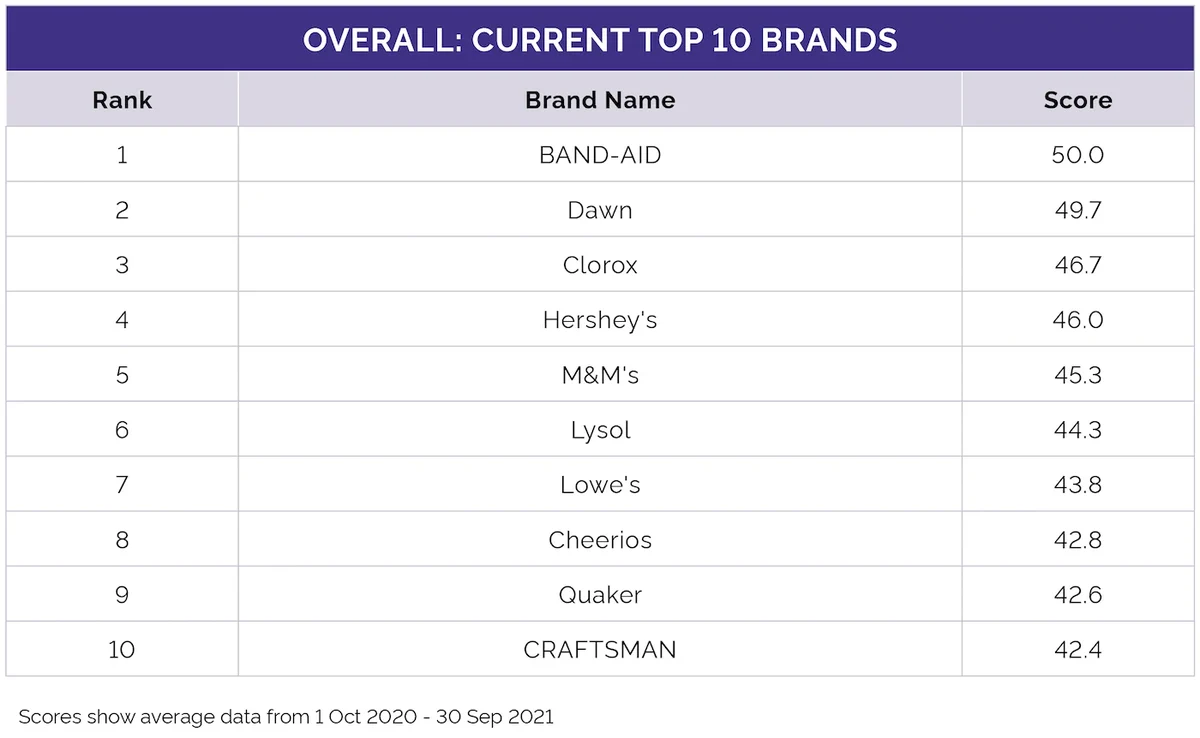 YouGov also reveals the US brands that made the greatest improvement to their Index score over the past 12 months.

The nation's biggest brand health improver in 2021 is Pfizer – widely known to be one of the Covid-19 vaccine American manufacturers. The company was central to the vaccine rollout this year and saw the biggest uplifts in its Impression, Recommend, and Quality scores. The pharmaceutical brand recorded a change in score of +12.5 points – nearly three times that of the next best improver, CeraVe.

Among the other Health and Pharma brands to make the biggest improvers list is GoodRx,, Tylenol, Eli Lilly, and Nature Made.

Skincare brand CeraVe improved on its score last year by +4.4-points and went viral on TikTok as users and influencers figured out the moisturizer could also be used to remove makeup. The skin cream company leveraged the social media trend and invested heavily in social media to grow its brand presence and health.

Bumble Bee's first major ad campaign in years seems to have paid off for its brand health. The tuna brand released ads that expanded the ways consumers can use its shelf-stable seafood products; brand benefits such as a high source of protein and its portability in their marketing resonated with younger audiences. And with sustainability posed to be one of the top concerns for consumers in retail, Bumble Bee renewed its company commitment to restoring and protecting the world's oceans in areas where it sources its tuna.



Alongside CeraVe and Bumble Bee, Lysol and Bissel are the only other two CPG and household brands to make the top improvers list in this year.

Amazon Prime Video is the sole tech-enabled media brand on this year's biggest improvers ranking. The streaming giant signed a deal with Donald Glover for a series of projects including a TV series based on the Mr. and Mrs. Smith franchise. Coupled with the release of Coming 2 America earlier in the year, Amazon Prime Video managed to improve its brand health score by roughly +4-points in a year where streaming habits remained strong.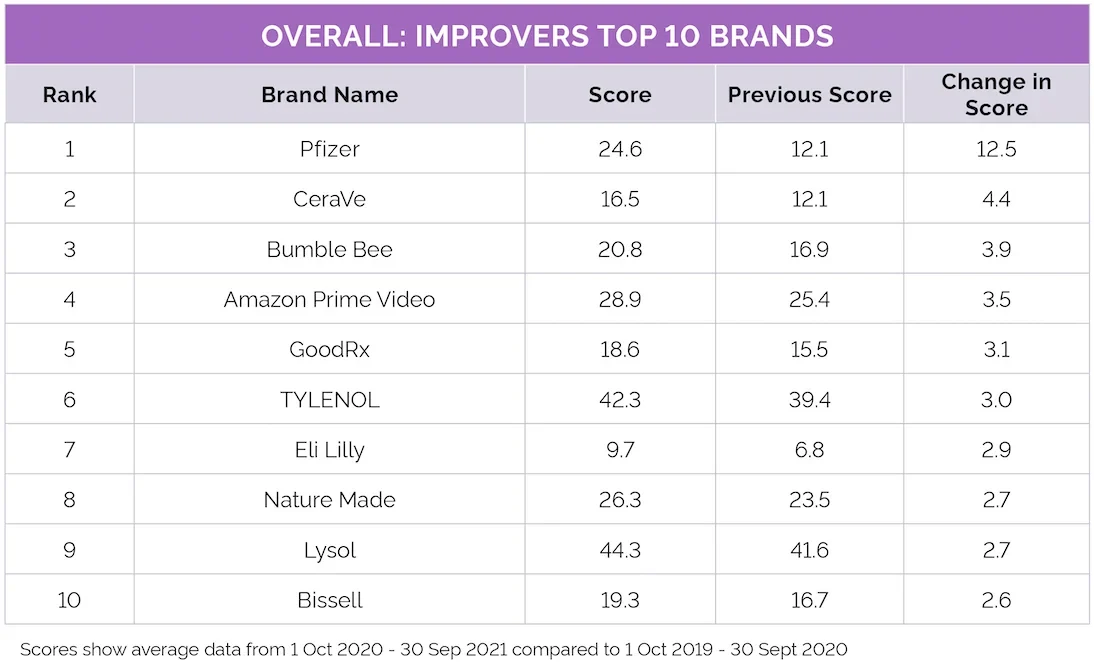 Methodology
:
YouGov's Best Brand Rankings report is based on brands' Index score, which is a measure of overall brand health calculated by taking the average of Impression, Quality, Value, Satisfaction, Recommend and Reputation as reported by YouGov BrandIndex – our industry-leading brand health tracking solution, which gives a comprehensive overview of what your customers think, say, feel and do in relation to your brand, and your competitors'.