More than a quarter of Americans (28%) have already bought or plan on purchasing one of Starbucks' new $1 reusable coffee tumblers aimed at cutting down on paper cup waste, according to a YouGov Omnibus survey taken January 4 – 6, 2013.
Irrespective of whether they would purchase a cup, 7 out of 10 respondents believed it was a good idea, with 4 out of 10 saying it was a "very good idea." The new cup appears to be a hit even with non-customers as 12% of non-Starbucks customers aim to purchase one.
More than half of respondents (57%) probably or definitely won't be purchasing a reusable cup.
As an incentive to go green, customers that use the cup receive a 10 cent discount on each drink. According to USA Today, Starbucks' goal is to have 5% of its cups reusable by 2015.
Two thirds (66%) of respondents have not heard of Starbucks' cup offer.
Although 38% of responders thought that Starbucks should be applauded for its attempts to go green and 23% think it is generally an ethical company, a minority of responders were skeptical; 13% wondered if it is was a publicity stunt.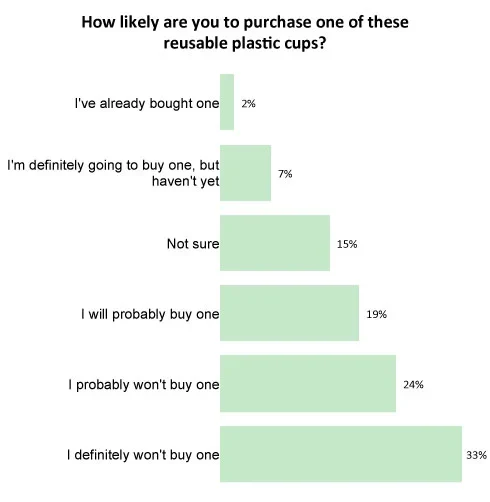 For further information about poll results, and for details about methodology and Omnibus services, please email omnibus.us@yougov.com.
Click here for full results.