Verizon Wireless may end up dodging a bullet with its business despite the brand damage sustained by last week's NSA secret phone record revelations.
In the wake of the Guardian's scoop of Verizon Business Network Services secretly handing over all call records to the NSA, Verizon Wireless' consumer perception levels dropped sharply and quickly in the past week. Verizon's Buzz score sank well below an index of its rivals AT&T, Sprint and T-Mobile for the first time this year.
The picture may be brighter for Verizon's business. Consumers' Purchase Consideration, which measures consumers who say they would consider Verizon the next time they are in the market to subscribe to wireless services, has barely moved in the past seven days and the brand remains ahead of its rivals.
Verizon Wireless and its competitive sector were measured with two of YouGov BrandIndex's scores: Buzz score, which asks respondents: "If you've heard anything about the brand in the last two weeks, through advertising, news or word of mouth, was it positive or negative?" and Purchase Consideration, which asks respondents, "When you are next in the market to purchase or subscribe to wireless services, would you consider the brand?"
On June 5, the day the news broke about the NSA secretly collecting Verizon calling records, Verizon Wireless' Buzz score was 14, with its competitive sector average at 8. Five days later, Verizon Wireless' Buzz score landed at zero while the sector average stood at 6.
Using the same time frame by comparison, Verizon Wireless' Purchase Consideration score on June 5 was 27. Today it stands at 26.
YouGov BrandIndex (www.brandindex.com) interviews 5,000 people each weekday from a representative US population sample, more than 1.2 million interviews per year. Respondents are drawn from an online panel of more than 1.5 million individuals.
Buzz score for Verizon vs. Competitors among all consumers, 2013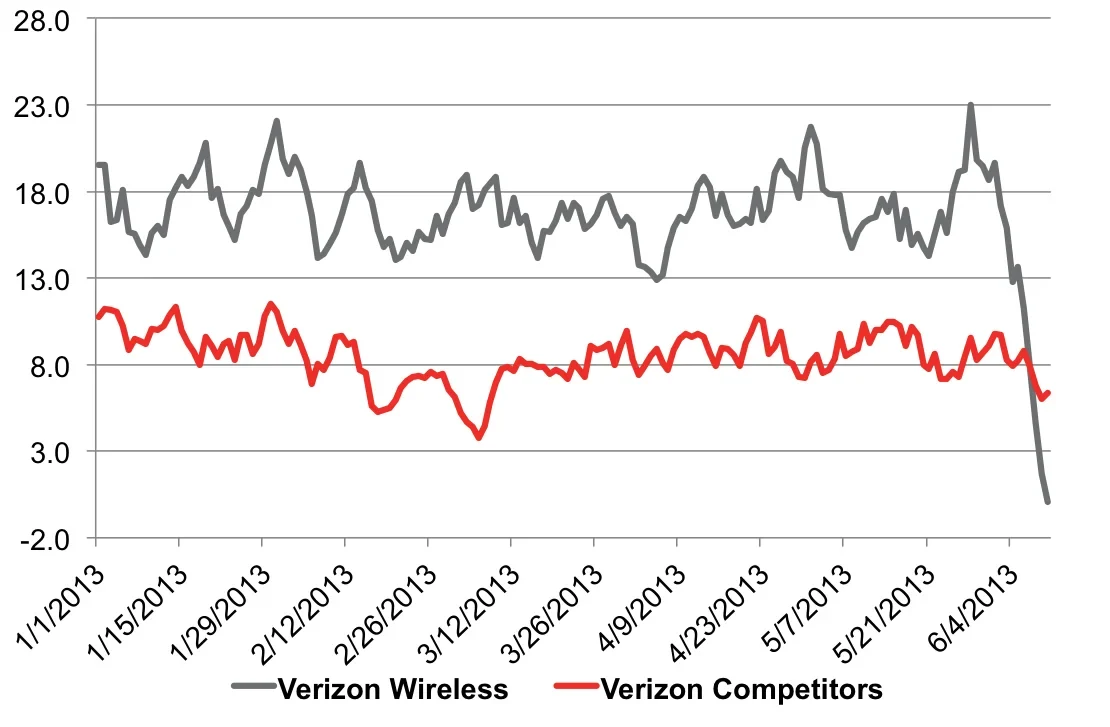 Verizon Buzz and Consideration compared, 2013