Instead of raising eyebrows, promoting back to school sales in early July seems to be raising Staples' perception with parents, in both purchase consideration and ad awareness.
Since the office supplies chain went full force on its back to school campaign shortly after the July 4th holiday weekend, both parental purchase consideration and ad awareness measurements have been boosted beyond its rivals.
By its peak on July 18th, 30% of all U.S. parents were aware of Staples' advertising, up from 16% ten days before. Staples' ad awareness is currently 24%, compared to 16% for Office Depot and 13% for OfficeMax.
Presently, 37% of parents would consider Staples the next time they are in the market to purchase supplies, up from 24% a week ago. Office Depot scores 29% on purchase consideration while OfficeMax scores 21%.
Staples, Office Depot and OfficeMax were measured with two of YouGov BrandIndex's scores: Awareness, which asks respondents "Have you heard anything about the brand in the last two weeks?"; and Purchase Consideration, which asks respondents: "When you are in the market next to purchase office supplies, from which of the following brands would you consider purchasing?" Results were screened for adults with children under the age of 18. YouGov BrandIndex Awareness and Purchase Consideration scores can range from 0 to 100%.
Ad Awareness: Staples, OfficeMax, Office Depot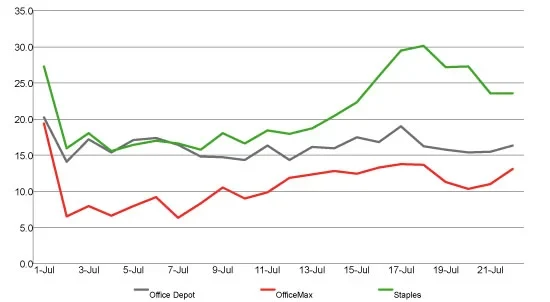 Purchase Consideration: Staples, OfficeMax, Office Depot