Disgraced cyclist Lance Armstrong is not going down quietly. In a recent interview Armstrong claimed that the former president of cycling's world-governing body knew of his doping and helped with the cover up.
How does the American public feel about professional cycling now?
Over half (58%) think that professional cyclists are still using illegal drugs. Only 6% think that they are no longer using them. Men are more cynical about the situation than women with 63% convinced that cyclists are still using drugs compared to 52% of women.
Although 45% feel that Lance Armstrong's case has opened fans' eyes to widespread drug use, only 22% feel that it has made sports organizers stricter with drugs. 44% feel that the case has made people lose faith in fair play. Only 6% of the population feel sorry for Armstrong and feel that he was unfairly treated.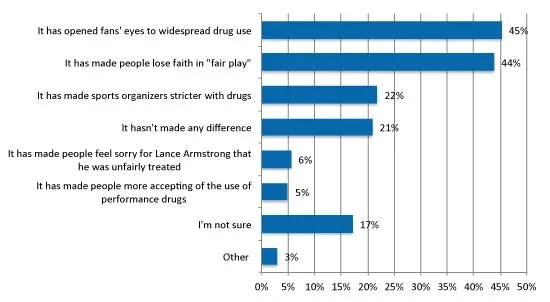 Cycling's world governing body, the UCI, intends to set up an independent inquiry into "doping" and hope to hear evidence from a large number of people, including Lance Armstrong. Armstrong has publicly stated that he would testify with "100% transparency and honesty", so long as all of those involved were punished in the same way. Others argue that other athletes implicated confessed immediately and helped with further investigations and so should have been treated more leniently.
43% of our Americans agree that all athletes implicated should receive the same punishment. 39% think that punishment should be on a case-by-case basis.
For further information about poll results, and for details about methodology and omnibus services, please email omnibus.us@yougov.com.
Find the full results here.