Amazon Prime has made some recent strides among paid content providers in consumer perception and potential sales metrics, which underscores the risk they may be taking if they raise their annual fee of $79 as much as 50%.
To evaluate what Amazon Prime has to do to make inroads, one has to see the big picture, as Netflix holds commanding leads in three key YouGov BrandIndex metrics over its rivals: purchase consideration (tied in with potential sales), consumer perception (using YouGov BrandIndex's Buzz score), and the one which would be directly impacted by a change in the $79 fee, value perception.
Purchase Consideration: Netflix broke away as the purchase consideration leader of paid content services last September, improving from 30% to 38% without changing its monthly subscription price. That means 38% of adults 18+ would consider Netflix the next time they are in the market to buy, stream or watch video content.
HBO and Showtime have been around a lot longer than Netflix, but their purchase consideration has been essentially flat, remaining at 33% and 23% respectively.
Amazon Prime moved from 9% to 15% over the past four months, putting it ahead of Hulu Plus, which has improved slightly since the summer but been flat since the fall, hovering at 11%.
Consumer Perception ("Buzz"): Netflix has more than double the consumer perception levels of competitor HBO, and been on a steady upswing since the beginning of 2013. Amazon ranks in a much lower group with Showtime and Hulu Plus, seemingly not helped by its recent original political series, "Alpha House" with John Goodman.
Value: Netflix is also way ahead of the pack in value perception, most likely stemming from a combination of relatively low monthly charges, and expanding unlimited content offerings and original programming. Amazon Prime is a distant second, perhaps hampered by mixing rental videos with its "free" Prime offerings, but it is slowly making progress.
Methodology
Amazon Prime, HBO, Hulu Plus, Netflix and Showtime were measured with three of YouGov BrandIndex's scores: Buzz ("If you've heard anything about the brand in the last two weeks, through advertising, news or word of mouth, was it positive or negative?"), Purchase Consideration ("When you are in the market next to purchase office supplies, from which of the following brands would you consider purchasing?") and Value ("Does it give good value for what you pay?"). All respondents were age 18 and over.
YouGov BrandIndex's Buzz and Value scores range is from 100 to -100 and compiled by subtracting negative feedback from positive. A zero score means equal positive and negative feedback.
The Purchase Consideration score range is from 0% to 100%.
Scoring
Netflix has seen its Buzz score rise from 19 to 28 over the course of the past 13 months. By comparison, HBO's Buzz score is currently 12, while Showtime, Hulu Plus and Amazon Prime scores range between 6 and 9.
For Value score, Netflix has risen from a 22 score on January 1, 2013 to its current score of 34. Since August, Amazon Prime's Value score has doubled from 6 to 12, still less than a third of Netflix. HBO', Showtime and Hulu Plus have all seen their Value scores decline since the beginning of this year, with the current range being Hulu Plus at 5 to Showtime at zero.
Buzz: Paid Content Providers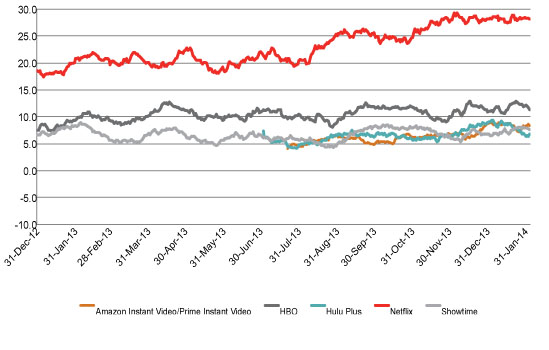 Value: Paid Content Providers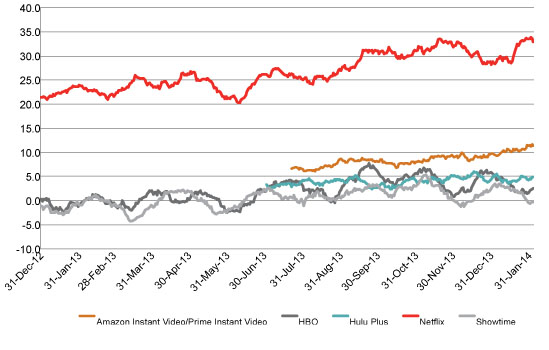 Purchase Consideration: Paid Content Providers