Esurance's recently-launched ad campaign mocking rival GEICO's "15 minutes can save you 15% or more" tagline is helping Allstate's online division to its highest consumer perception levels in over two years.
The campaign has helped Esurance to narrow its perception gap with GEICO to its closest point in that two year period.
Consumer Advertising Awareness for Esurance has risen from 15% back in mid-December to its present 25%. Despite the strides made by Esurance, GEICO still leads in this metric at 60%. GEICO is the only property & casualty insurance company that spends more than $1 billion annually on advertising.
In October 2011, Allstate bought Esurance for $1 billion. In the recent fourth quarter, net written premiums for Esurance increased 23%. For the full fiscal year, Esurance saw net written premiums increase 27.9%.
Esurance and GEICO were measured with two of YouGov BrandIndex's scores: Buzz ("If you've heard anything about the brand in the last two weeks, through advertising, news or word of mouth, was it positive or negative?"), and Advertising Awareness ("Which of the following brands have you seen an advertisement for in the past two weeks?"). All respondents were age 18 and over.
YouGov BrandIndex's Buzz scores range from 100 to -100 and compiled by subtracting negative feedback from positive. A zero score means equal positive and negative feedback.
Advertising Awareness score range is from 0% to 100%.
In mid-2011, shortly after Allstate bought the company, Esurance's Buzz score was around zero. From that point until this past mid-December, the score ranged between 3 and 4, then took off to reach its present score of 10. GEICO's current Buzz score is 22.
Ad Awareness: Geico, Esurance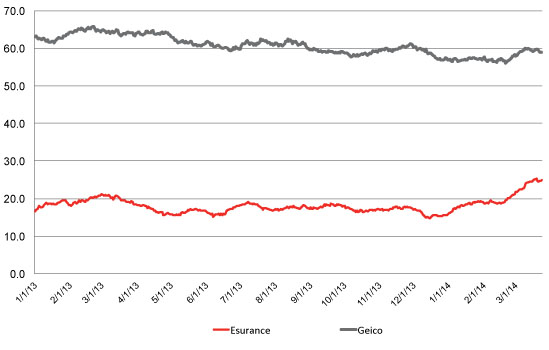 Buzz: Geico, Esurance