In spending $2.6 billion to purchase restaurant reservation site Open Table, Priceline is buying a company which ranks highest in many key consumer perception metrics against rivals except when it comes to sheer brand awareness.
Restaurants.com is the awareness leader in the online dining reservation category by a wide margin. 36% of Americans are aware of the restaurants.com brand while Open Table is recognized by less than half at 16%. However, that may change once the company is under the Priceline wing.
Open Table leads the online dining reservation category, which includes restaurant.com, Urbanspoon, and GrubHub.com, in the YouGov BrandIndex measurements of general impression, quality, satisfaction, reputation and willingness to recommend*.
Priceline also benefits from purchasing a company with considerably higher satisfaction, general impression and recommendation scores than its own.
GrubHub.com, Open Table, Priceline, Restaurant.com and Urbanspoon were measured with several of YouGov BrandIndex's scores: Awareness ("Which of the following brands have you ever heard of?"), Impression ("Do you have a general positive feeling about the brand?"), Quality ("Is it high quality or low quality?"), Satisfaction ("Are you a satisfied customer?"), Reputation ("Would you be proud or embarrassed to work for this brand?"), and Willingness to Recommend ("Would you recommend the brand to a friend or family member?") . All respondents are adults age 18 and over.
* Impression, quality, satisfaction and recommend scores for consumers already aware of the brands.
Awareness: GrubHub.com, OpenTable, Restaurant.com, Urbanspoon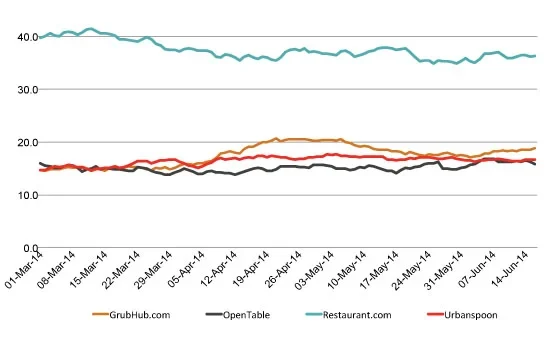 Satisfaction, Recommend: Priceline, OpenTable