Diet Pepsi's mid-August sweetener switch from aspartame to sucralose has yet to resonate among millennials.
While the perception of the general adult population has not veered in any significant direction for Diet Pepsi over the past two months, three key metrics have eroded for millennials: Buzz, Quality, and Willingness to Recommend. For the latter two scores, they both hit their low points for 2015.
All three have shown a similar pattern with this age demo: a build-up to the mid-August release of the sucralose version – actually hitting their high marks of the year – followed by a drop over the next month after the product hit the shelves.
For Buzz score, respondents are asked: "If you've heard anything about the brand in the last two weeks, through advertising, news or word of mouth, was it positive or negative?" Quality: "Is it high quality or low quality?" Recommend: "Would you recommend the brand to a friend?"
All three scores are measured on a scale from -100 to 100, with zero equaling a neutral position.
For Buzz, Diet Pepsi reached its highest 2015 score with millennials in early August with a 7 (i.e. 7% more millennials had a positive view of Diet Pepsi than negative), a full six points higher than the general population. By mid-September, the score had dropped to -3.
Quality and Recommend scoring patterns were similar: Quality peaked for the year at an 8 score in early August and fell to its lowest at the end of the month with -11. Recommend reached -1 on August 1st and then dropped back down to -18 by mid-September.
In April, PepsiCo announced that it would be moving Diet Pepsi from aspartame to sucralose due to a sales decline of more than 5% in the US. Sucralose has divided researchers regarding its safety since it was introduced in the United States in 1999. Packaged commercially as Splenda, it has achieved a 62% share of the artificial sweetener market.
Buzz: Diet Coke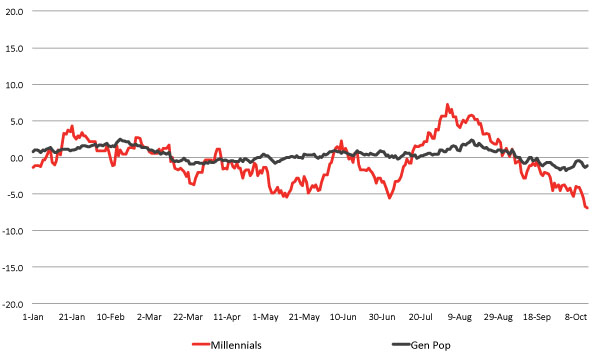 Recommend: Diet Coke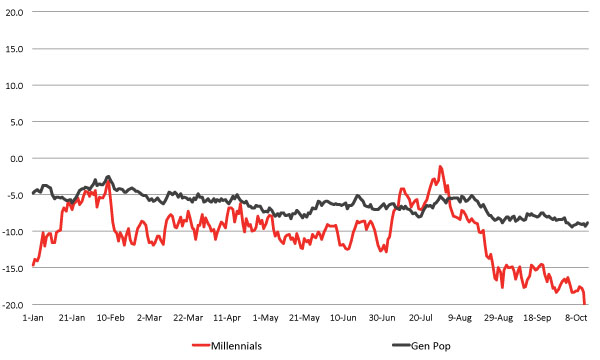 Quality: Diet Coke